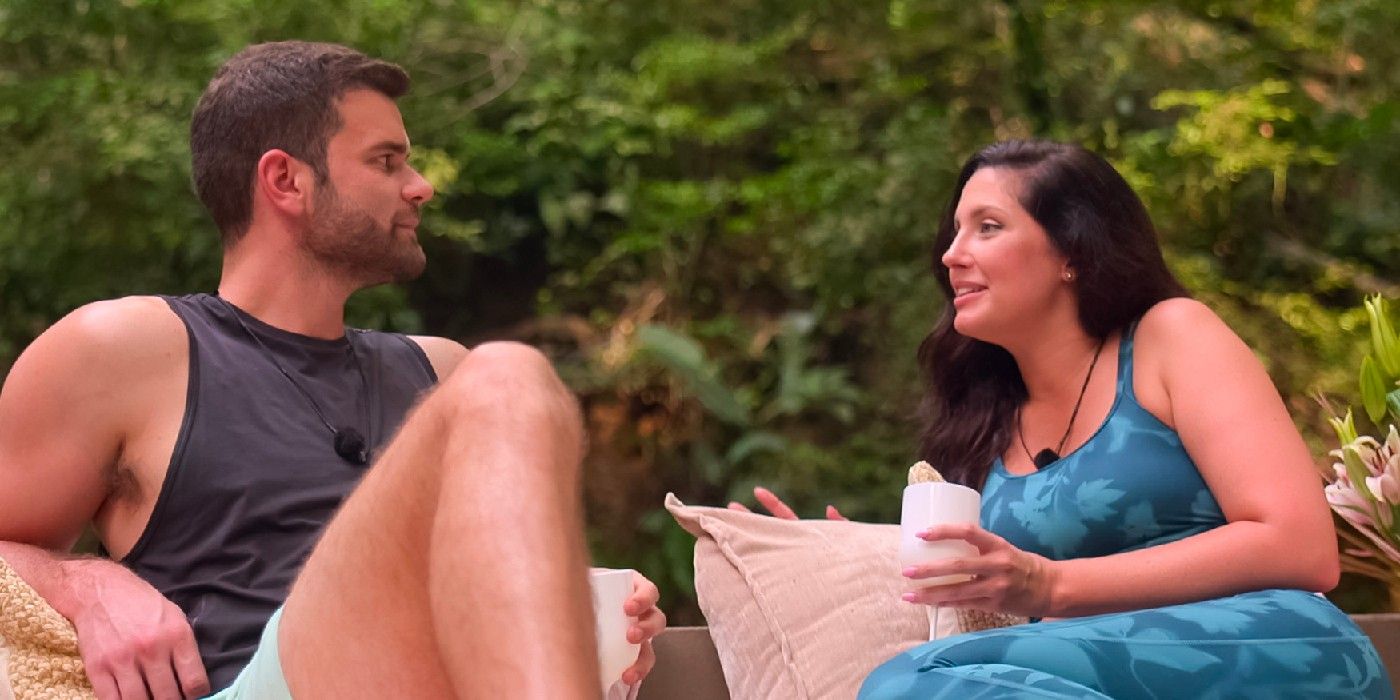 WARNING!!!! This article contains SPOILERS!!!!
The Circle's Nick Uhlenhuth and Love Is Blind's Lauren "LC" Chamblin were two of the final contestants paired up on Netflix's Perfect Match, but are they still together? After the last set of episodes aired on February 28, cast members began to reveal via interviews and social media whether or not they were with their Perfect Match. Although Nick dated multiple people on Perfect Match, including The Circle's Savannah Palacio, Too Hot To Handle's Izzy Fairthorne, The Circle: France's Ines Tazi, and Twentysomethings: Austin's Abbey Humphreys, he ended the show with LC.
Perfect Match season 1's Nick clearly let the newfound attention from girls get to his head. Nick presents the energy of someone who was overlooked for years by women until becoming a reality TV star and developing some abs, so it's easy to see how he became distracted throughout filming. After ditching Savannah early on and later getting dumped by other matches, Nick was absent for a couple of episodes. However, when LC appeared, there was a spark between them on their date. Nick admitted to having noticed her on Instagram and wanting to get to know LC better, and the two paired as a perfect match in the finale.
Related: Are Bartise & Izzy Still Together After Perfect Match? (SPOILERS)
Perfect Match's Nick & LC's Relationship Status Is Unclear
As of early March, it is unclear whether or not Nick and LC are still together. Unlike the more established couples in the house, such as Dom Gabriel and Georgia Hassarati, who won, or Kariselle Snow and Joey Sasso, they were just getting to know each other by the time the finale rolled around. Although both LC and Nick have been posting on Instagram, neither of their posts includes the other.
On Perfect Match, LC sheepishly approached Nick about following him on Instagram, and Nick immediately posed a question on his stories, asking his followers whether they were single. After LC responded yes, he followed her back. He admitted to being curious about her and excited to get to know her, and there was a clear romantic connection between the two on-screen.
Nick Was Hanging Out WIth Abbey From Perfect Match
Although Netflix released a YouTube clip on March 2 that relayed the relationship statuses of the three serious couples on Perfect Match, including addressing Kariselle and Joey's engagement, Nick and LC weren't featured because they ostensibly took themselves out of the running in the final episode. Unlike other couples, Nick and LC have yet to reveal their relationship status, likely because they wisely communicated during the finale that they didn't know each other well enough to say whether they were each other's perfect match. Neither has posted on Instagram featuring a prominent significant other since early 2022 when Perfect Match was filmed.
There is some speculation that Nick and Abbey Humphreys were together since there are some pictures on Nick's Instagram of the two of them hanging out in the summer of 2022. Nick and Abbey, whose pairing with Francesca made Netflix LGBTQ+ history, both live in Austin, but it appears to just be a friendship. Nick was also recently rumored to be dating former The Bachelorette Katie Thurston; however, nothing has been confirmed by either party.
Related: Are Francesca & Damian Still Together After Perfect Match (SPOILER)
Nick & LC Are Probably Not Together
Although Nick and LC still follow each other on Instagram, there's not much commenting or liking between the two. Since they got together so late in the game, it's fair to say that there wasn't enough of a deep connection for them to build a relationship outside the villa. Maybe if Nick wasn't always chasing the next best thing, there could've been a real relationship between the two, but this wasn't the case. Daddy Nick, who misplayed his burner profile on The Circle, was just too excited to be surrounded by so many attractive women.
Nick and LC weren't expected to make it outside of Panama, but there doesn't seem to be an answer regarding whether they are a couple after the Perfect Match. There's no evidence to support a relationship, and neither has commented after all episodes have aired. Some couples, such as Chloe and Shayne, have publicly acknowledged a breakup. Lauren appears to be living her best life in Atlanta, continuing her work as a voiceover actor, and Nick is working on business partnerships and his six-pack abs in Austin. Unfortunately, these two reality TV stars weren't meant to be, at least not through Perfect Match.
More: How Too Hot To Handle's Francesca Became The Villain On Perfect Match