Make your own Homemade Taco Seasoning with just 9 ingredients you likely already have in your spice cupboard, and you're on your way to the most flavorful tacos in no time.
Keep a batch of this homemade taco seasoning on hand for making taco soup or stuffed taco zucchini boats or these crockpot chicken taco bowls.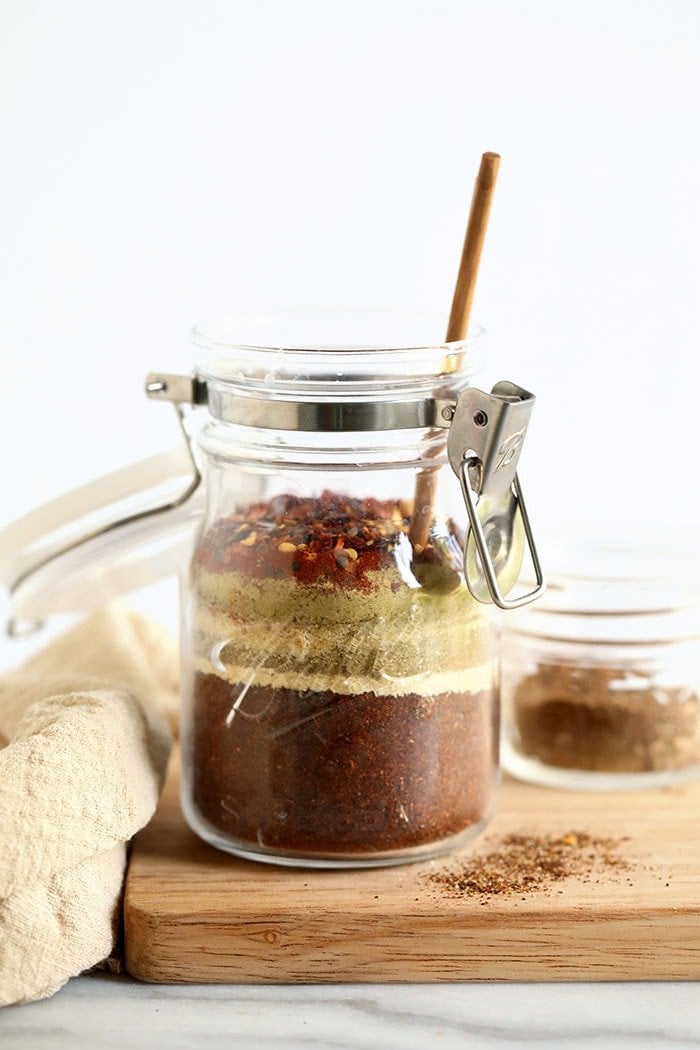 Easy Homemade Taco Seasoning
Homemade taco seasoning is something we keep on hand at all times. When in doubt make tacos (or our famous Mexican Beef Skillet). We prefer to make our own taco seasoning at home because 1. it tastes better and 2. there are no weird filler ingredients!
Not only can you use homemade taco seasoning to make tacos, but you can also use taco seasoning to flavor meat, season veggies, give flavor to casseroles, etc.
What is taco seasoning made of?
Taco seasoning is made from a base of chili powder, garlic powder, ground cumin, onion powder, and a few other basic spices.
DIY Taco Seasoning Ingredients
Ditch the store-bought taco seasoning for this super flavorful clean ingredient taco seasoning. Made with the following ingredients that you likely have in your spice cupboard already:
Chili powder
Garlic powder
Cumin
Onion powder
Coarse sea salt
Red pepper flakes
Ground black pepper
Ground oregano
Smoked paprika
Is homemade taco seasoning spicy?
This taco seasoning is mild as is, but you can easily make it spicier. See below for a few ideas.
Make it Spicier
If you prefer a spicier spice mix, add more smoked paprika or red pepper flakes. If you like it hot-hot, add a bit of cayenne pepper to the mix.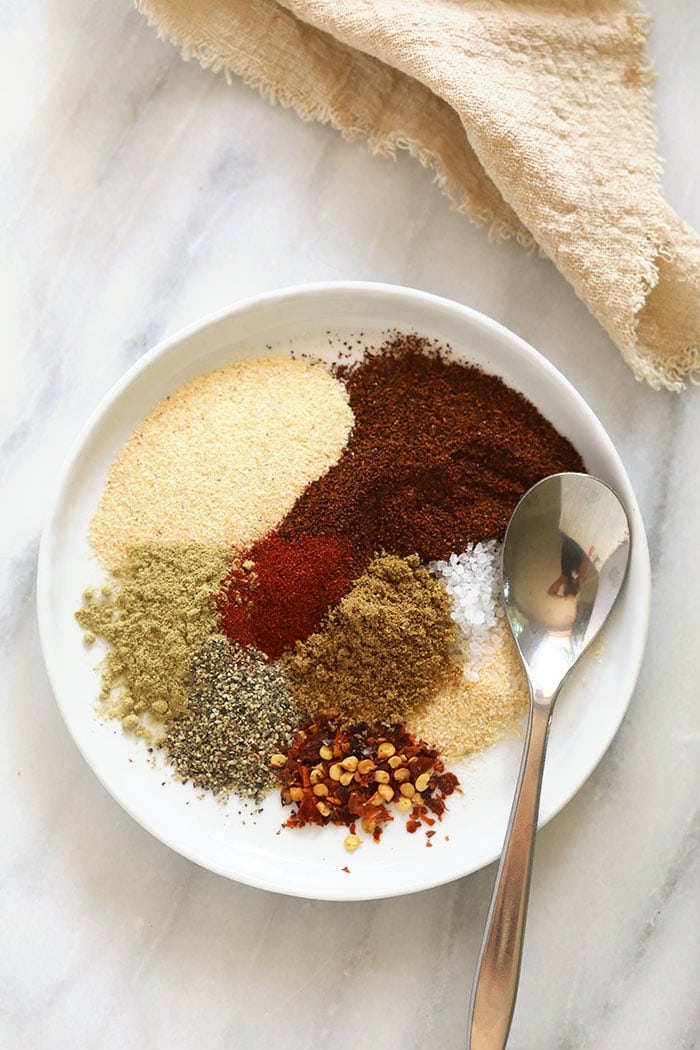 Recommended Spice Containers
In case you're in the market for some cute spice jars for homemade spice mixes, check out some of our favorites below! They're super affordable and in the long run, you'll end up saving money especially if you start buying your basic spices in bulk.
How much taco seasoning do you need for 1 lb. of meat?
A good rule of thumb for our homemade taco seasoning is that you need about 3-4 tablespoons of seasoning per 1 lb. of meat.
What's great about this recipe is that it yields 1.5 cups of taco seasoning, so you can have multiple taco nights!
check it out!
Check out our favorite beef taco meat recipe. It's a good starter recipe for trying out this taco seasoning!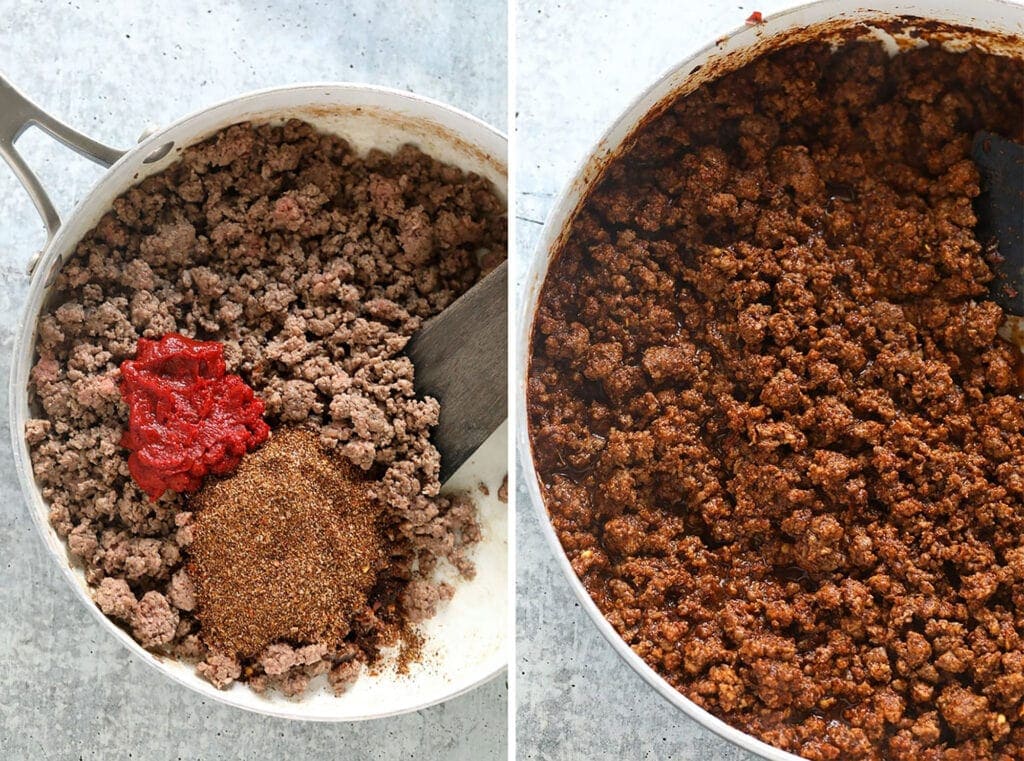 Does your recipe call for a taco seasoning packet?
Simply swap out the store-bought taco seasoning packet for around 3 tablespoons of this homemade taco seasoning recipe!
The one thing that store-bought taco seasoning has in it that ours does not is "other added ingredients" such as a thickener or cornstarch.
Ways to Use Taco Seasoning (not just on tacos!)
This taco seasoning doesn't need to be JUST for tacos! The flavorful combination of spices works great on the following:
Flavor soup: Use this seasoning to give your chili or taco soup some extra flavor!
In place of fajita/chili seasoning: if your recipe calls for fajita seasoning or chili seasoning, but you don't have it on hand. Simply swap it out 1:1 for this taco seasoning!
Spice rub: Use this taco seasoning as a spice rub for any kind of meat such as chicken, beef, carnitas, or shrimp. Give your meat a nice pat down and let sit for about 20 minutes before cooking with your preferred method. PS: check out our Steak Taco Seasoning.
Homemade tortilla chips: Ever made our own tortilla chips? This spice mix would be so yummy sprinkled on top of chips!
Roasted veggies: If you're roasting a bunch of veggies, you'll love the flavor this seasoning gives your veggies. Follow our tutorial for how to roast sweet potatoes, but use this taco seasoning instead!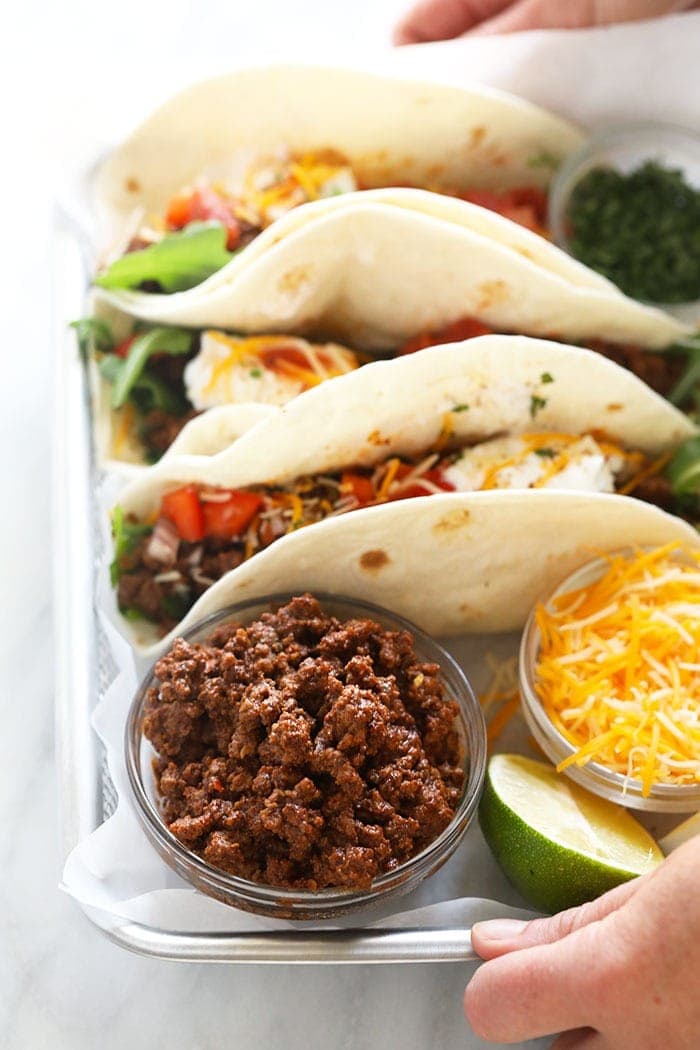 FAQ
What can I use if I don't have taco seasoning?
If you don't have taco seasoning, you can replace it with fajita seasoning or chili seasoning. OR – simply do a quick combination of the main ingredients – chili powder, ground cumin, garlic powder, and paprika.
How much taco seasoning do I need for 1 lb. of meat?
For 1 lb. of meat, we recommend around 3-4 tablespoons of taco seasoning.
Can you use chili powder instead of taco seasoning?
The short answer is yes because the majority of taco seasoning is chili seasoning, however, you will be missing some key flavors such as cumin, garlic, oregano, and paprika.
How to Store Homemade Taco Seasoning
We recommend storing your taco seasoning in an airtight container such as a jar in a cool, dark, place. Your seasoning can last for up to 1 year.