[ad_1]

Hello gentle readers, and welcome to the SwitchArcade Round-Up for December 27th, 2022. In today's article, I finally bang out a few reviews I have been working on over the holidays. River City Girls 2, Mortal Shell, Panda Punch, and The Tale of Clouds and Wind get evaluated today. After that, we have a bunch of dubious new releases to look at, plus some new and expiring sales. Let's go!
Reviews & Mini-Views
River City Girls 2 ($39.99)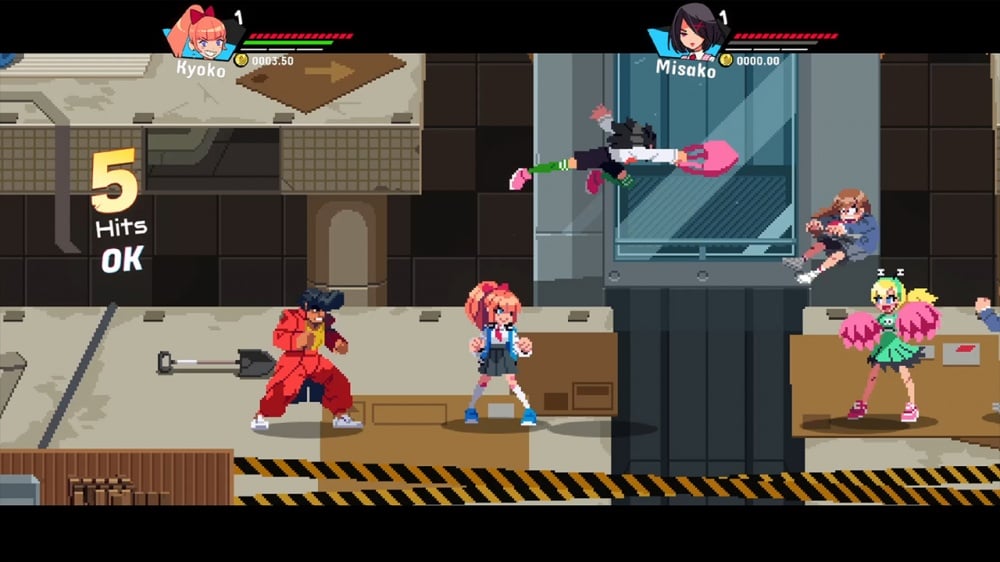 Some sequels completely change things up, recontextualizing the series and taking things in a bold, new direction. That's not the kind of sequel River City Girls 2 is. No, this is the more usual kind of sequel. That stuff you liked in the first game? It's here, and there's more of it. The stuff you didn't like? Some of it fixed. Some of it isn't. If you liked the first game, you'll like this one. If you didn't? I somewhat doubt this one will hit you any better. Unless your very specific problem with the first game was a lack of online play. That one is fixed.
Anyway, Sabu finds out about the girls did to his daughter and, more importantly, his criminal empire in the first game. He's mad so he breaks out of prison and proceeds to make the girls' lives hell in the pettiest possible ways. The girls ultimately decide to solve the problem the way they usually do, and this time they have some extra help. You'll visit a variety of locations, most of which will be very familiar if you played the first game. You'll also learn a variety of moves, most of which will be very familiar if you played the first game. You'll fight a number of different enemies. most of… well, you get it. There's a story reason for the recycling, but there's unquestionably a lot of it.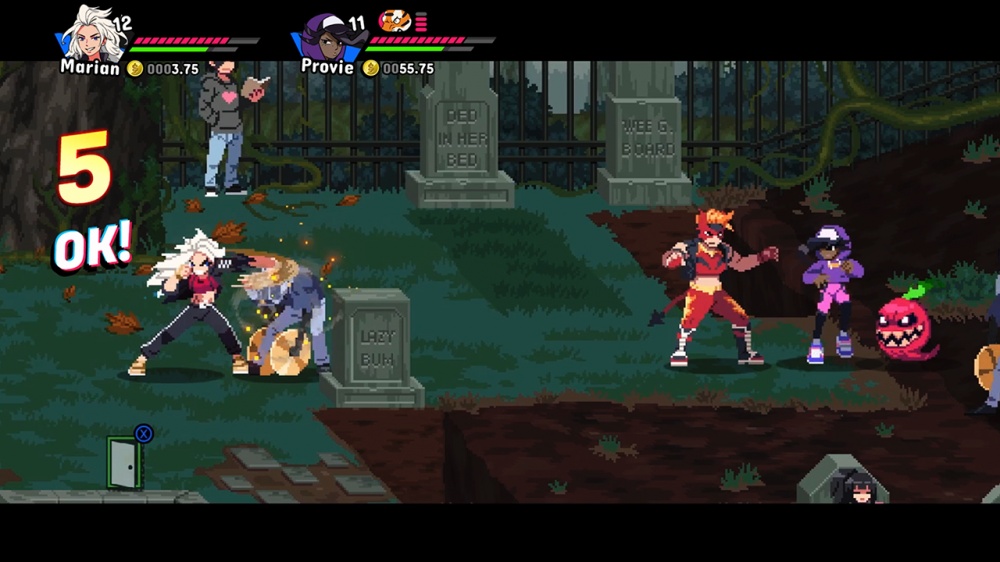 Still, there is enough new stuff here to keep you entertained, and the new characters help a lot with that. Misako and Kyoko are fun heroes, and following their cartoonish rampage is just as enjoyable here as it was in the first game. Riki, Kunio, Marian, and Provie don't add much to the story but they do give you some gameplay variety that is quite welcome. Just like in the first game, you can level up your stats and expand your arsenal by buying things from shops, and leveling up all six characters will keep you playing long past the credits.
I wasn't as keen on the first game as some were, and I find myself feeling the same way about this game. I'm not in love with the way combat flows, and I'm not a big fan of the way WayForward sets up their boss battles in general. Too much waiting around, and the bosses take way too many hits to go down. It's not bad or anything, but compared to how games like Streets of Rage 4 and Shredder's Revenge flow with the minute-to-minute action, River City Girls 2 comes up short for me. It doesn't help that the game's technical performance is even worse than the Switch version of the first game. There are areas and situations where the framerate dips get too obvious to ignore.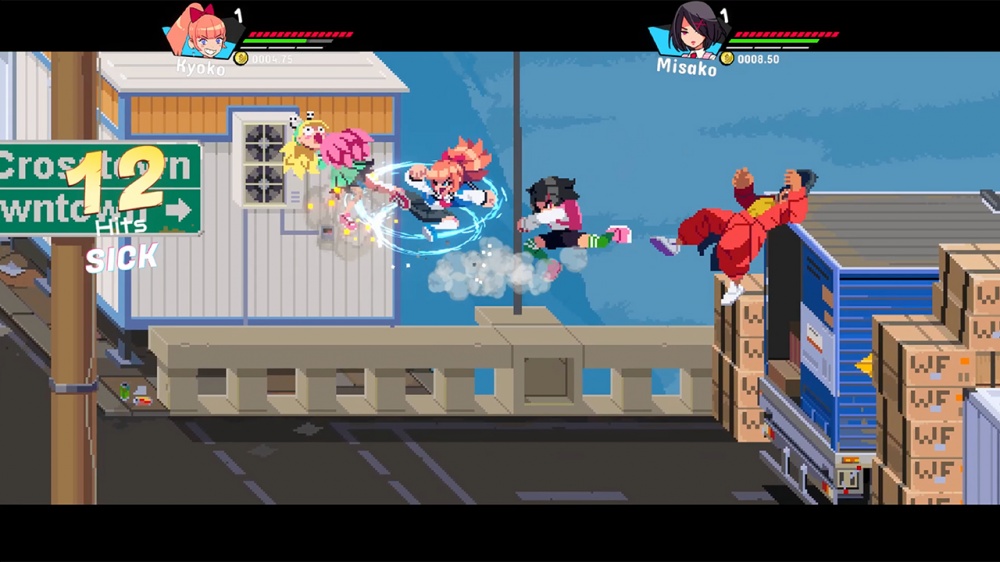 River City Girls 2 is more River City Girls, with all the good and bad that implies. The expanded playable roster and some minor gameplay tweaks are appreciated, along with the ability to play with others online, but so much here is the same that you probably don't even need to read a review to know if you'll like it or not. Want another reason to stomp around River City with Misako and Kyoko? Here it is. Looking for the next great brawler after Shredder's Revenge? You'll have to keep waiting.
SwitchArcade Score: 3.5/5
Panda Punch ($4.99)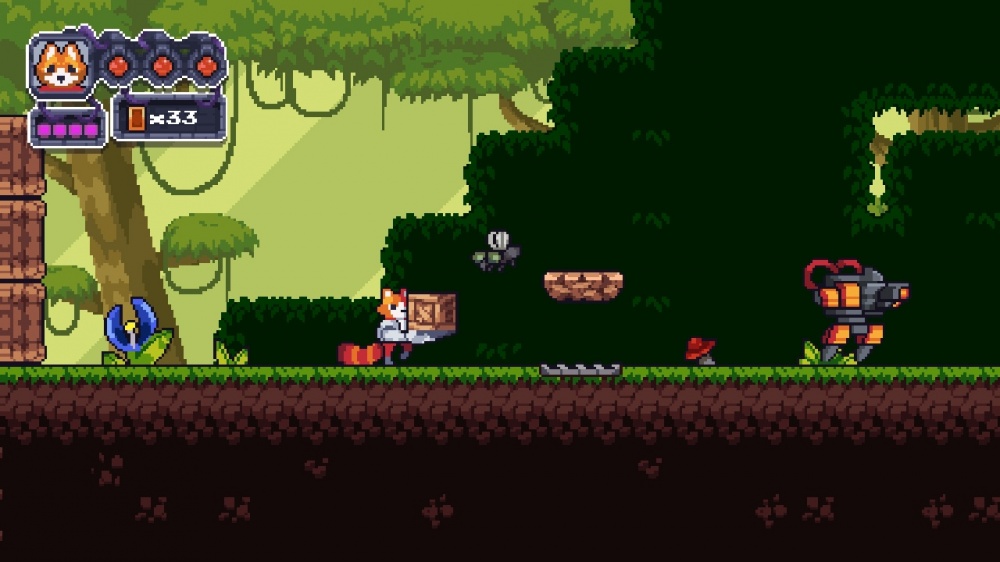 Panda Punch has an idea, and it basically translates to punching around boxes to press down switches and serve as platforms. And to the game's credit, it does a decent enough job with that. It looks okay, it plays okay, the level designs are amusing enough. It does what you want a five dollar Switch platformer to do, more or less. The levels just kind of roll into each other, giving the feeling of a large interconnected world, but it's actually fairly linear on the whole.
Panda Punch is one of those games where you can spend an evening picking your way through it and have a fun enough time doing so, only to find your brain has almost entirely deleted the experience from your memories by the next morning. For the meager price it's asking, I suppose that's acceptable. Nothing I'd recommend rushing out and buying, but you could do a lot worse with your time and money than picking this up and bashing around some crates.
SwitchArcade Score: 3.5/5
Mortal Shell ($29.99)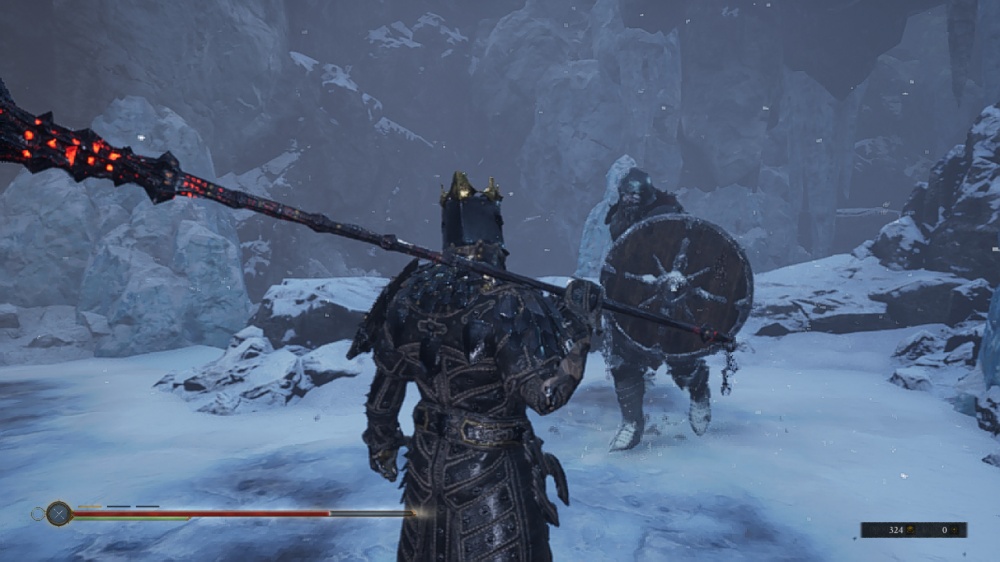 You know, I don't think Dark Souls 2 and Dark Souls 3 are coming to the Nintendo Switch. Just a hunch. With that in mind, Souls fans who want to play something of the sort on their Switch consoles have to look elsewhere. I suspect the makers of Mortal Shell would like this to be the elsewhere those fans look, because this game really is nakedly paying homage to Dark Souls. There are a couple of extra gimmicks that involve inhabiting the bodies of fallen warriors and hardening yourself up to tank a hit, but by and large this is the Diet Pepsi version of Dark Souls. It's a little clunkier, a lot less inventive, and you can't help but wish you were playing the real thing instead.
Mortal Shell makes a decent transition to the Switch, and if there are Dark Souls fans out there who only own a Switch, need something else in the same vein, and don't mind dropping a decent chunk of change, this might scratch the itch. Outside of that particular scenario, things get shakier. It doesn't drop the ball in any serious ways, but there are lots of little things that add up to a game that just doesn't feel as good to play as the game it wants to evoke. Worth a shot for the Souls faithful, but others should probably stick to the real thing.
SwitchArcade Score: 3.5/5
The Tale of Clouds and Wind (QUByte Classics) ($7.99)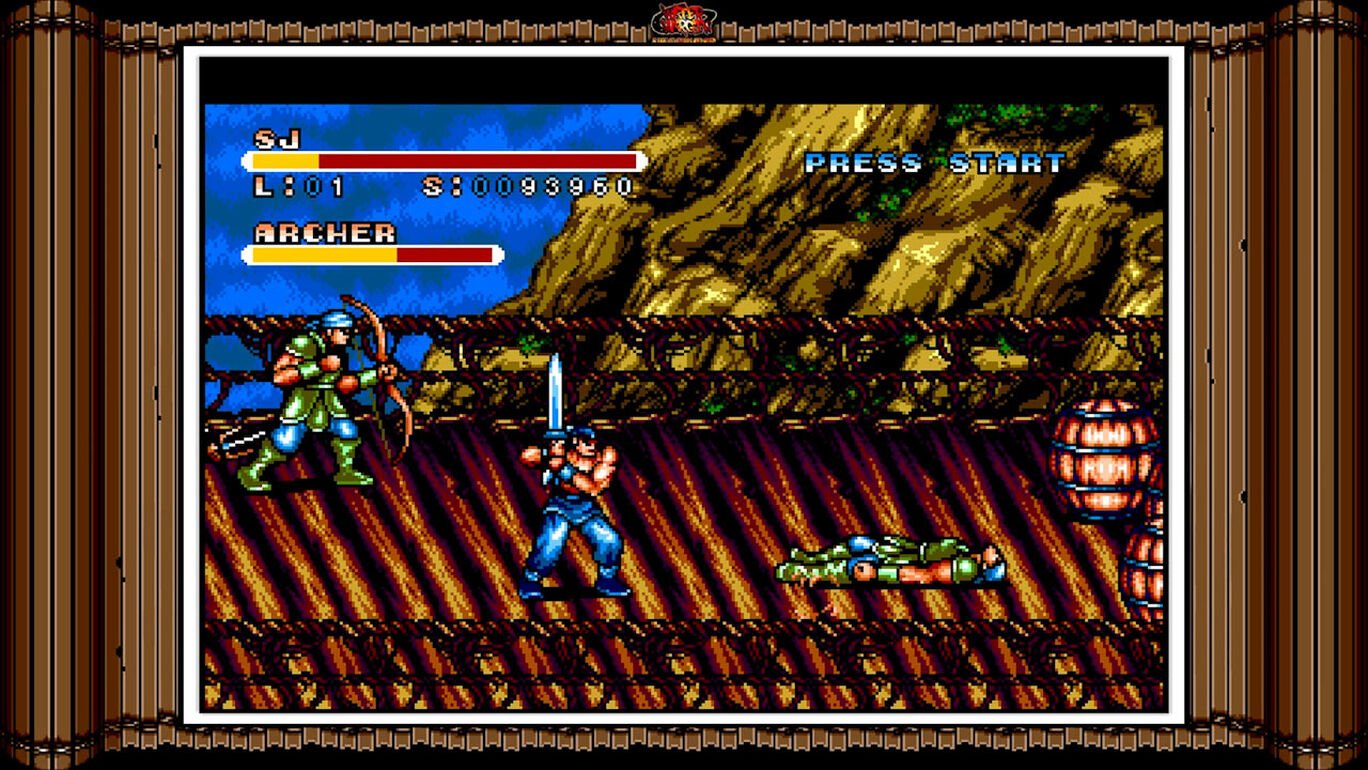 QUByte has plucked another game from Piko's library, this time the Taiwanese Mega Drive beat-em-up that sometimes goes under the name Water Margin but here is called The Tale of Clouds and Wind. It's based on the classic Chinese novel, the same one that Konami's Suikoden series drew inspiration from. Not that that is really important or anything, as you'll just be walking from left to right beating the stuffing out of people. You can choose between three characters and play alone or with a friend via local multiplayer. It's an okay game, nothing great, but it suffers from the same input lag QUByte's other retro rereleases do.
The Tale of Clouds and Wind is a serviceable 16-bit beat-em-up, but not much more than that. Add in some emulation issues that result in control lag, and you've got something that can get the job done if needed but probably shouldn't be relied on for such a task. Given the assortment of Capcom beat-em-ups available at a cheaper price on Switch, it's hard to recommend this to any but those on the hunt for something less common to play from this era.
SwitchArcade Score: 3/5
New Releases
Xanchuchamel ($5.99)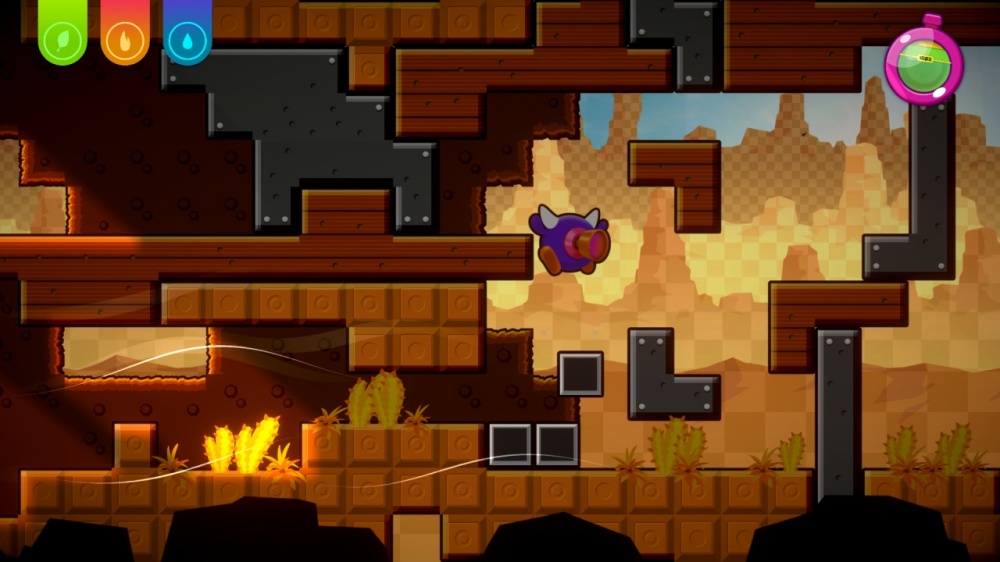 This is a puzzle platformer whose main gimmick involves moving around blocks and other platforms to make your way through each stage. There are fifty stages in total set across five different worlds. As far as games with five-dollar Switch platformer energy go, this seems like it's on the better end of things. Enough that I don't even mind that it's a touch higher than a fiver.
WRC Generations – The Official Game ($39.99)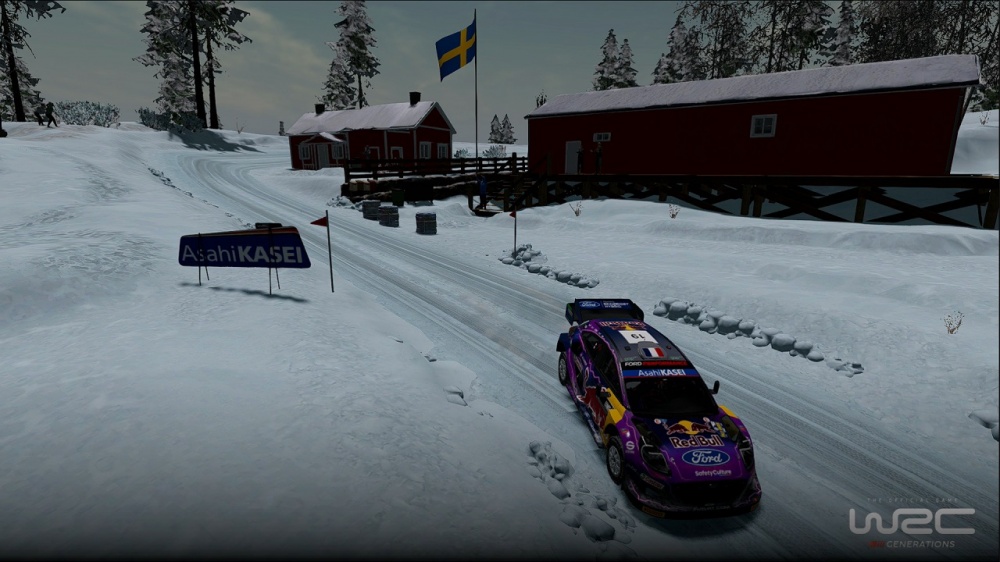 Well hey, another WRC game. It seems to have enjoyed decent reviews on other platforms, but the last couple of releases in this series on Switch have suffered greatly in the transition. Still, if you enjoyed the previous game in the series on our little hybrid platform, you'll probably be able to deal with whatever has been sacrificed here. That aside, this one has even more content than the last one so you'll be racing away for quite some time.
Everybody's Home Run Derby ($5.00)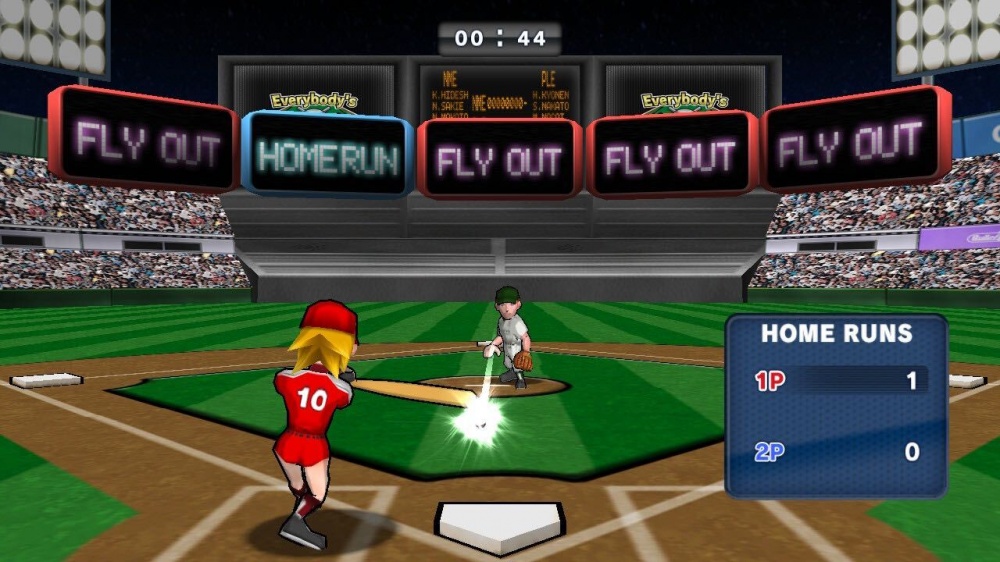 This is exactly what it looks like, and nothing more. Just a simple home run derby game for up to four players via local multiplayer. There are a variety of characters to choose from. Yes, that's about it.
Grabitoons! ($7.99)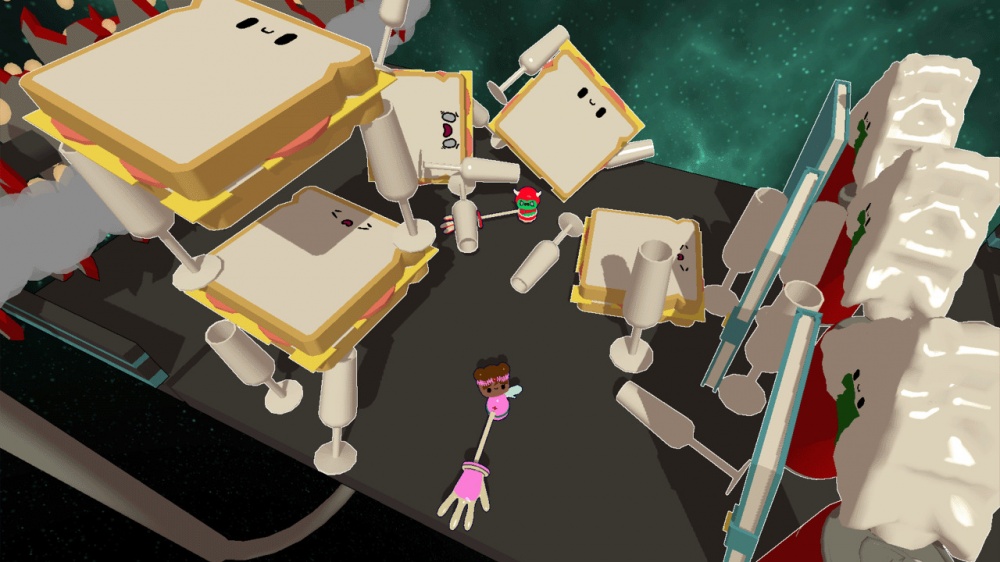 Here's a party game with fifteen different mini-games that can be enjoyed by up to four players in local multiplayer. The gimmick seems to be the over-sized grabby hands your characters have. You can unlock extra customization bits, which is about usual for this sort of thing. It can't be played in handheld mode, so presumably you'll need the motion control stuff for this one.
Otoko Cross: Pretty Boys Klondike Solitaire ($6.99)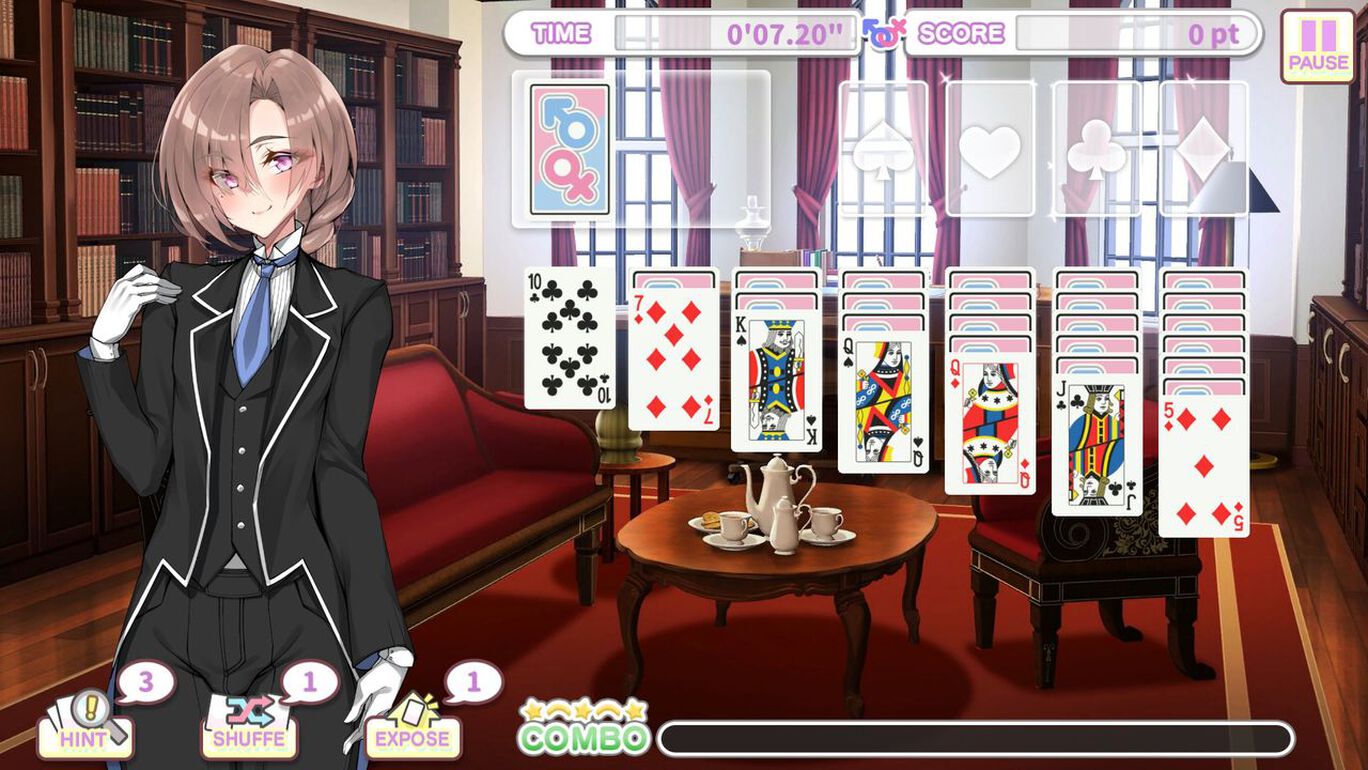 The second in the Otoko Cross line brings the titular Pretty Boys to a game of Klondike Solitaire. Play some solitaire and unlock some new outfits for the boys. That's really all there is to it, so if that sounds like your jam then here you go.
Boxer ($9.99)
Aw heck, it's Sabec. It's another no-frills affair from this publisher, setting you against seven different boxers. It doesn't look very fancy, and given Sabec's track record it probably doesn't play very fancy either.
Cryght ($1.50)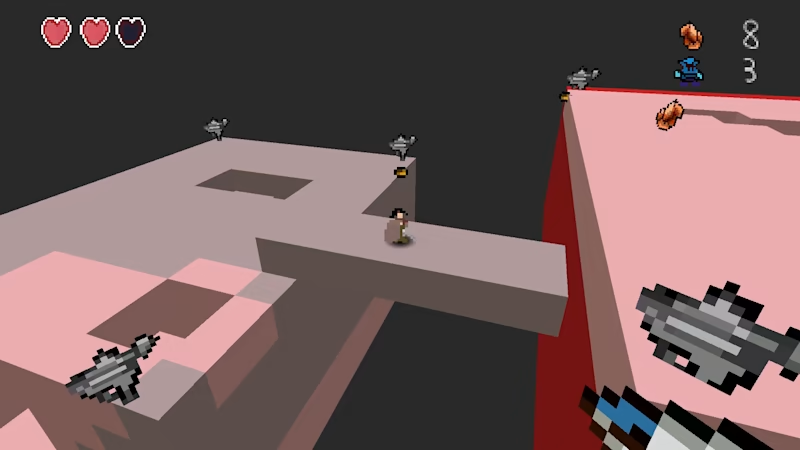 A buck-fifty and it sure looks like it. This game has more than one hundred and thirty stages, and you're tasked with reaching the crystal however you can on each of them. It's not short on rough edges, but I suppose you don't have to get much out of it to get your money's worth.
Sales
(North American eShop, US Prices)
What a difference a day makes. I suppose there isn't much left to put on sale at this point. The highlight today is the new low price on Darkest Dungeon, so if you're interested in the game and somehow held out this long, here's your shot. Over in the outbox, fans of first-person shooters will want to strongly consider DUSK before its latest sale wraps up. Check those lists!
Select New Games on Sale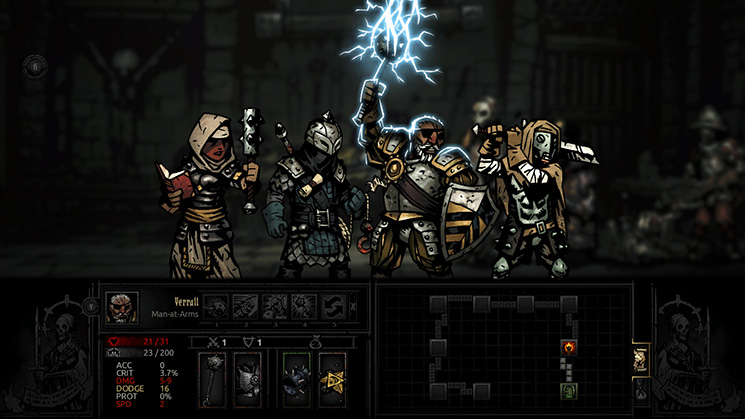 Darkest Dungeon ($6.24 from $24.99 until 1/3)
Darkest Dungeon AE ($9.99 from $39.99 until 1/3)
Peace, Death! 2 ($1.99 from $5.00 until 1/8)
Evoland Legendary Edition ($4.99 from $19.99 until 1/9)
SNIPER Hunter Scope ($1.99 from $14.99 until 1/9)
Aviary Attorney: DE ($11.99 from $19.99 until 1/9)
The Big Con: GotY Edition ($7.49 from $14.99 until 1/9)
Fantasy Blacksmith ($7.49 from $9.99 until 1/10)
Ampersat ($4.99 from $9.99 until 1/10)
Moonrise Fall ($4.99 from $9.99 until 1/10)
Crowalt: Traces of the Lost Colony ($4.99 from $9.99 until 1/10)
Pumpkin Jack ($11.99 from $29.99 until 1/16)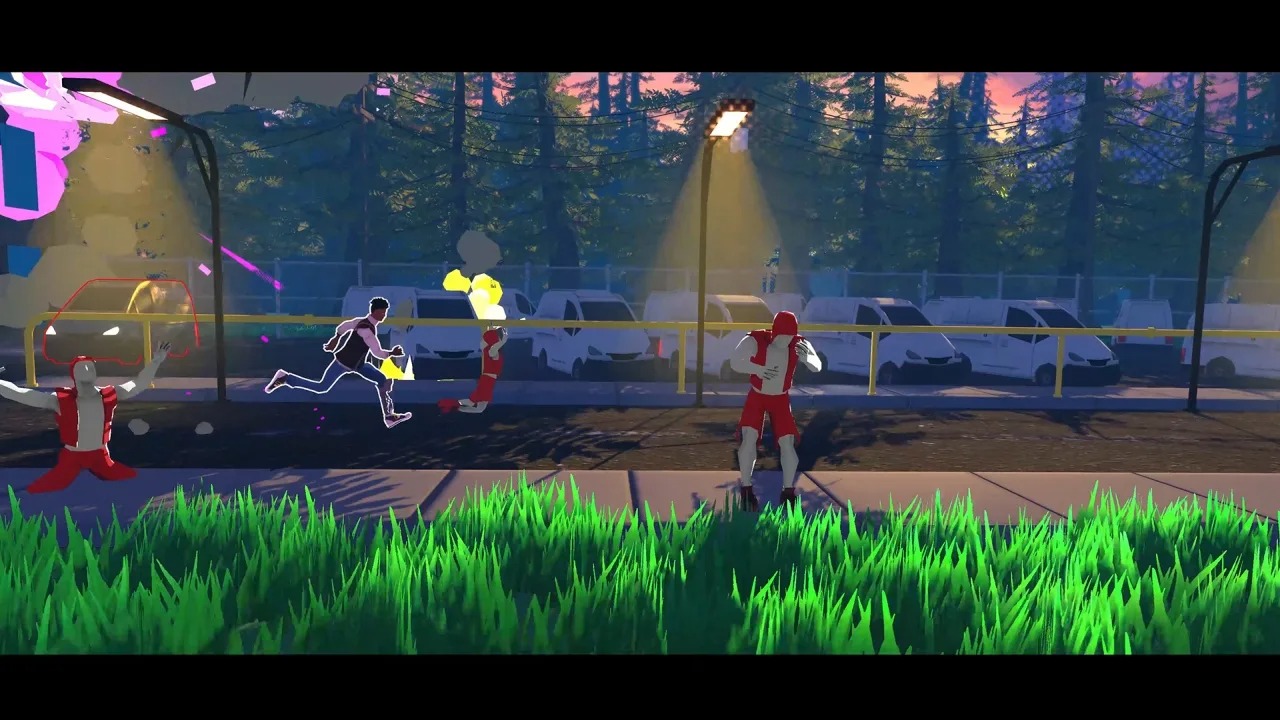 Aerial_Knight's Never Yield ($4.79 from $11.99 until 1/16)
Dungeons 3 ($35.99 from $39.99 until 1/16)
Matchpoint Tennis Championships ($44.99 from $49.99 until 1/16)
Blackguards 2 ($3.74 from $14.99 until 1/16)
Wildcat Gun Machine ($3.74 from $14.99 until 1/16)
Zombie Rollerz: Pinball Heroes ($3.74 from $14.99 until 1/16)
LEGO Bricktales ($26.99 from $29.99 until 1/16)
Destrobots ($1.99 from $9.99 until 1/16)
Jet Kave Adventure ($1.99 from $19.99 until 1/16)
Knights & Guns EE ($1.99 from $16.49 until 1/16)
Mysteries Under Lake Ophelia ($1.99 from $5.49 until 1/16)
Space Commander War & Trade ($4.99 from $9.99 until 1/16)
Warplanes WW2 Dogfight ($1.99 from $9.99 until 1/16)
Burger Chef Tycoon PE ($1.99 from $5.99 until 1/16)
Sales Ending Tomorrow, Wednesday, December 28th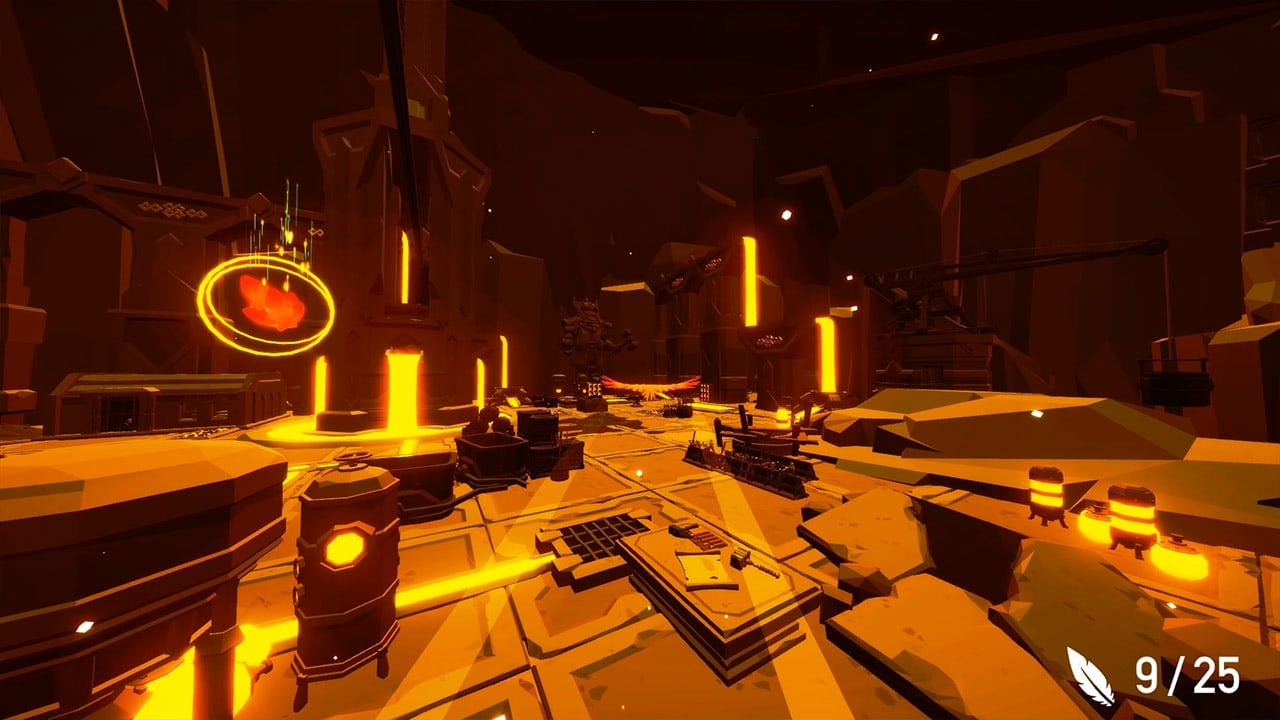 Aery Dreamscape ($3.99 from $9.99 until 12/28)
Aery Last Day on Earth ($3.99 from $9.99 until 12/28)
Aery Little Bird Adventure ($2.79 from $6.99 until 12/28)
Cardaclysm Shards of the Four ($3.74 from $14.99 until 12/28)
Creepy Tale ($1.99 from $9.99 until 12/28)
Dead by Daylight ($11.99 from $29.99 until 12/28)
Dead by Daylight Ultimate ($41.99 from $69.99 until 12/28)
Death Park 2 ($2.79 from $6.99 until 12/28)
DUSK ($14.99 from $19.99 until 12/28)
Flying Hero X ($3.99 from $9.99 until 12/28)
Football Manager 2023 Touch ($40.49 from $44.99 until 12/28)
From Heaven to Earth ($3.99 from $9.99 until 12/28)
Gigapocalypse ($5.99 from $9.99 until 12/28)
House Builder ($11.24 from $14.99 until 12/28)
Murder Diaries 2 ($3.99 from $9.99 until 12/28)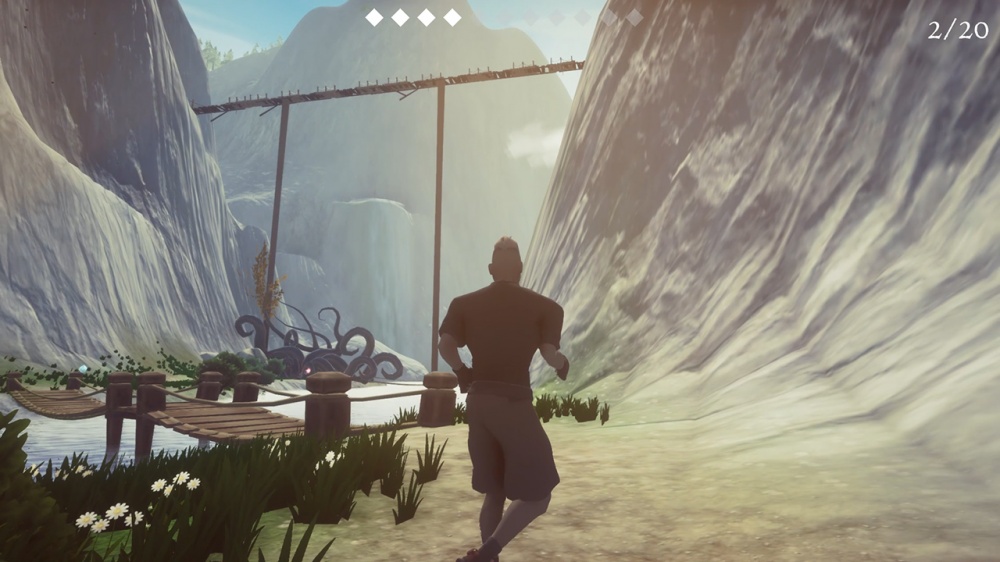 One Last Memory ($3.99 from $9.99 until 12/28)
Rigid Force Redux ($5.99 from $19.99 until 12/28)
Run Sausage Run ($1.99 from $4.99 until 12/28)
Sausage Wars ($1.99 from $4.99 until 12/28)
Slime-san ($3.59 from $11.99 until 12/28)
Splatter ($1.99 from $4.98 until 12/28)
Super Rebellion ($2.00 from $7.00 until 12/28)
Tanky Tanks ($2.39 from $5.99 until 12/28)
Truberbrook ($5.99 from $29.99 until 12/28)
Vambrace: Cold Soul ($4.99 from $24.99 until 12/28)
Windscape ($3.99 from $19.99 until 12/28)
That's all for today, friends. We'll be back tomorrow with more reviews, more sales, and perhaps some new releases and news. It depends on what happens between now and then. I hope you all have a great Tuesday, and as always, thanks for reading!
[ad_2]

Source link