[ad_1]

Hello gentle readers, and welcome to the SwitchArcade Round-Up for December 1st, 2022. Wow, December. We're already at the last month of the year? Phew. I have a lot of work to finish in the next few weeks. As for today, we've got a little news, a lot of releases, some sales, and… that's it, actually. Sorry, I don't know where I was going with that. Luckily, I managed to prepare most of this yesterday so that today's hospital trip didn't keep me from having an article for you today. Let's go!
News
'Sonic Frontiers' Free Update Content Plan Revealed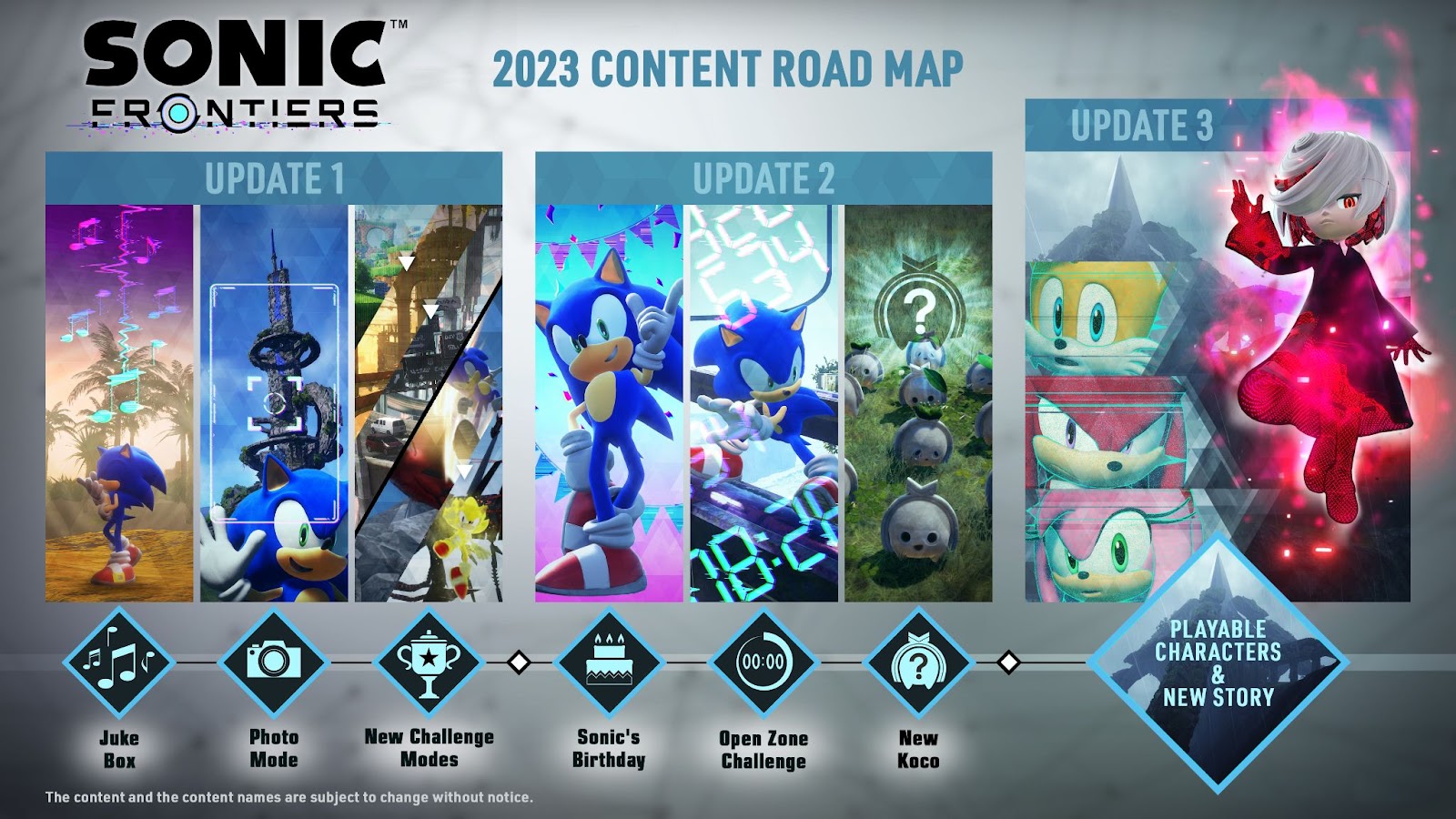 Sonic Frontiers turned out to be a bit of a pleasant surprise. Sure, it's a hot mess. But better a hot mess than a cold one. I think? I should have planned that metaphor better. Anyway, SEGA today announced plans for some free content updates to the game, and it looks rather substantial. All of that will be coming in 2023, but there is one last treat for owners of the game before Christmas. Available from December 21st, a free Holiday Cheer Suit DLC can be downloaded so that Sonic can get dressed up for the season. Hey, not bad.
New Releases
Romancing SaGa -Minstrel Song- Remastered ($24.99)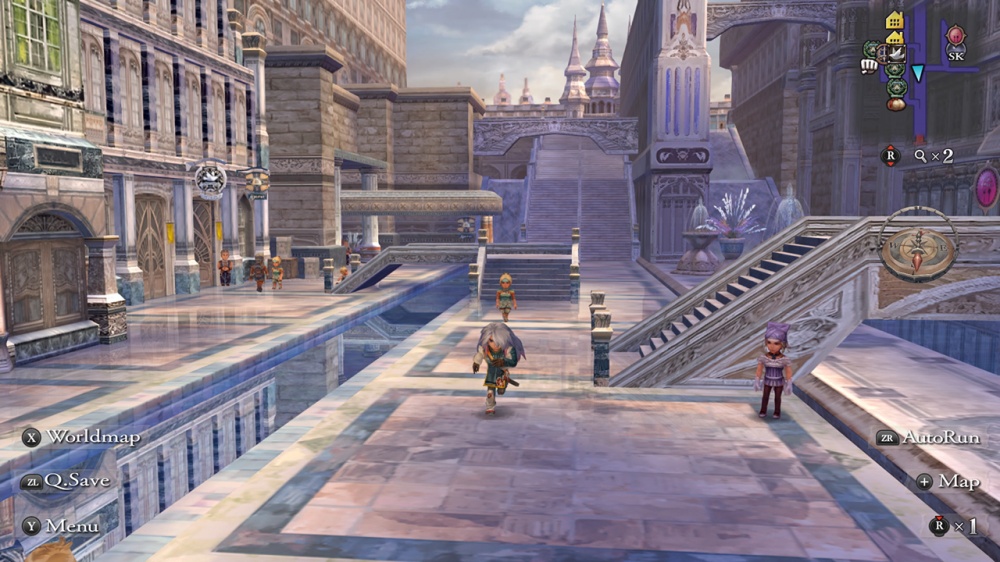 Times sure have changed for the SaGa series. This is a remaster of the PlayStation 2 remake of the Super Famicom Romancing SaGa, the fourth SaGa game and first in its sub-series. Back when the PlayStation 2 version came out in the West in 2005, it was met with, to be very kind, a middling reception. But here in 2022, there's a bit more appreciation for SaGa's quirky brand of role-playing fun, and this re-release seems to be getting a generally better appraisal. I'll have a review of this one soon, but SaGa fans don't need to wait for my go-ahead.
Arcade Archives Tetris The Grand Master ($7.99)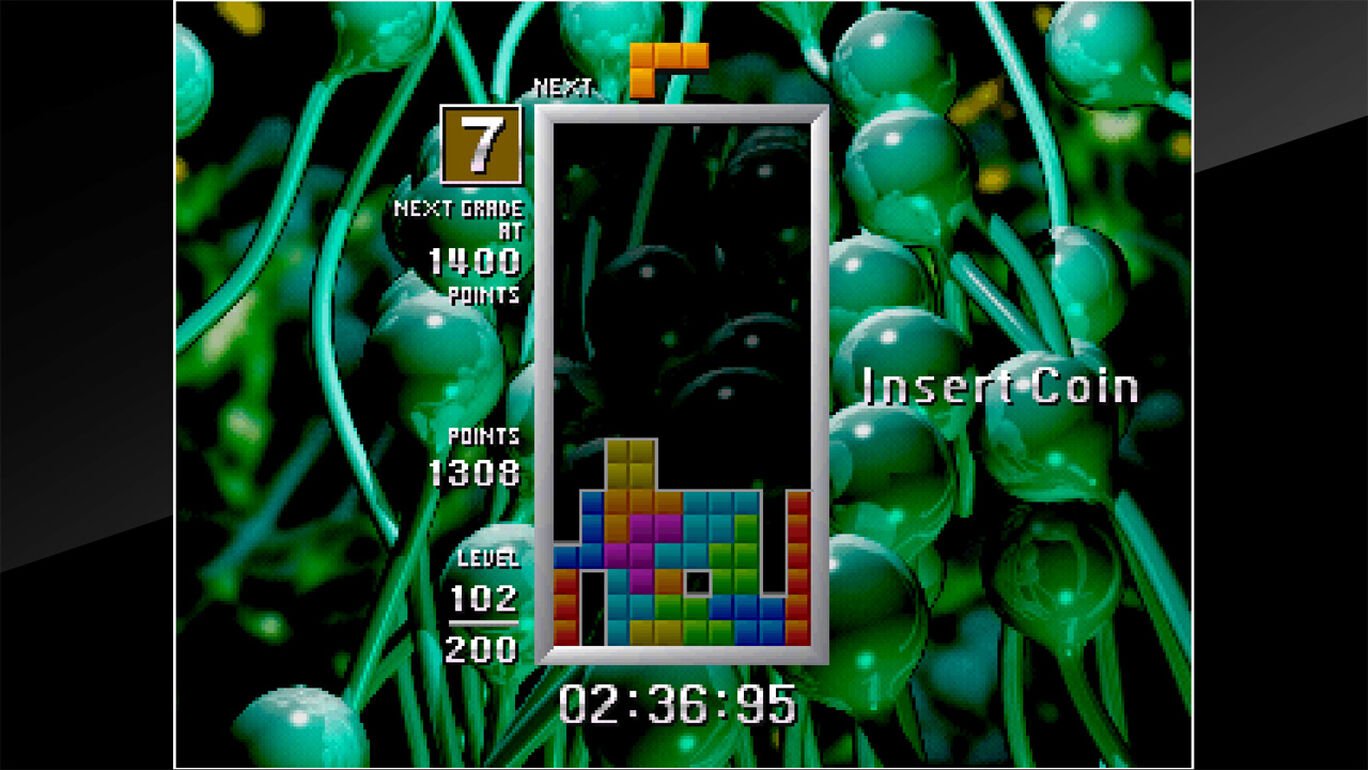 This is the 300th release in the Arcade Archives line, and Hamster has found a suitably special game to ring it in with. Arika's Tetris: The Grand Master originally released in arcades in 1998 and kicked off a series that proved to be very popular with expert Tetris players. This is the first time the original arcade game has come to home consoles, and only the second appearance at all of the series outside of arcades. If you like Tetris, this is a very appealing prospect. However, this release has a number of issues, breaking from Hamster's usual reliability. It's apparently being worked on, but you might want to hold off until the fixes arrive.
Inscryption ($19.99)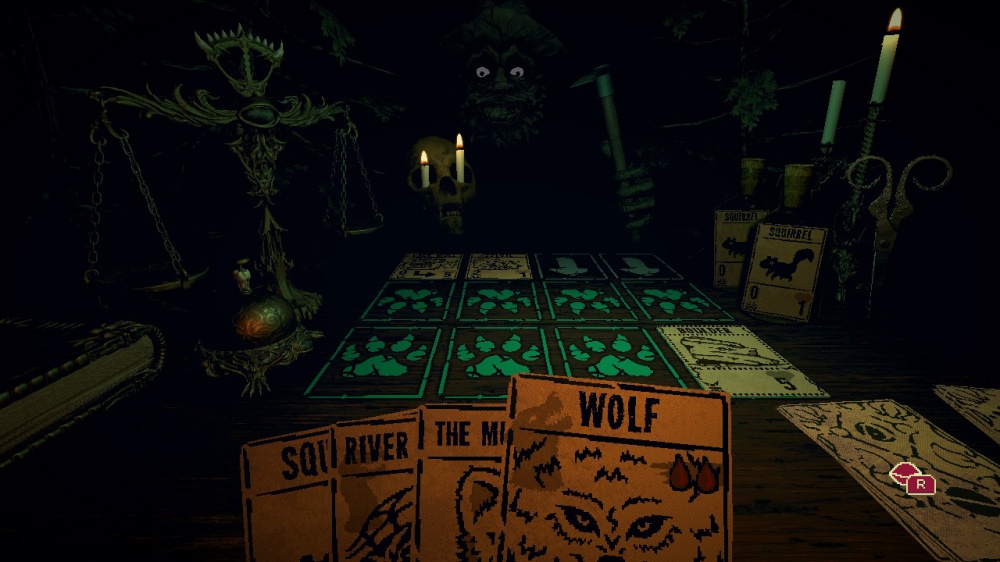 Here's another roguelite deck-building game, but you probably haven't seen one quite like this. It might seem fairly ordinary at first, but the more you play the more it becomes something very different. One of those games where the less I say the better, since a lot of the enjoyment comes from how it plays on your expectations. Mikhail really wanted to review this one, so he'll have his thoughts on it for all of you soon enough.
Donut Dodo ($4.99)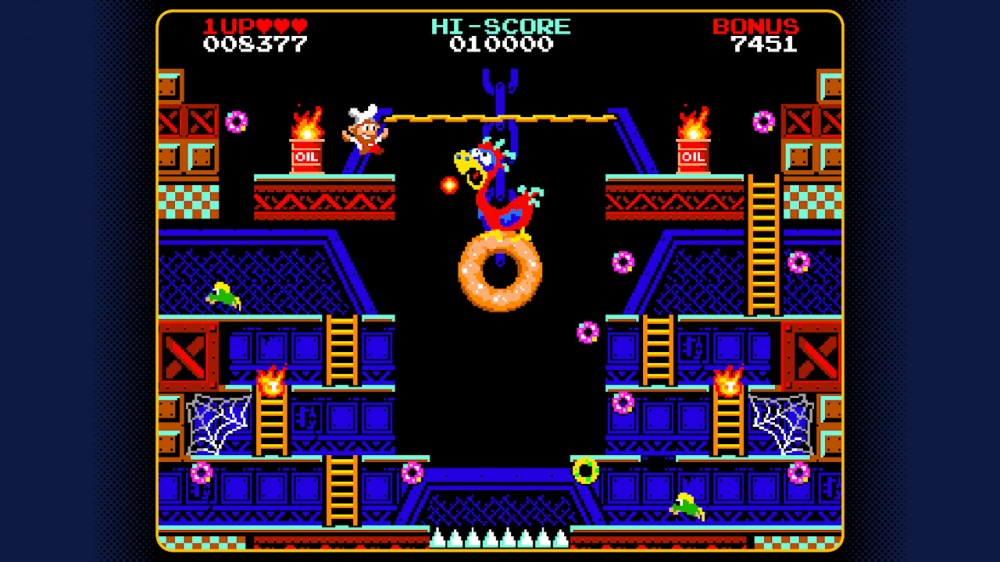 If we imagine a world where single-screen arcade action games didn't go out of vogue, we almost certainly would have seen something like Donut Dodo raking in the quarters in arcades everywhere. You have to collect all of the donuts in each stage, with the final one being the giant donut that tends to be in the general vicinity of a large trouble-making dodo bird. You get five distinct levels plus a bonus stage, and there are leaderboards included so that you can struggle to get your initials up at the top of the pile. I'll have a review of this one early next week, but I can already say that I like it an awful lot.
Railbound ($12.99)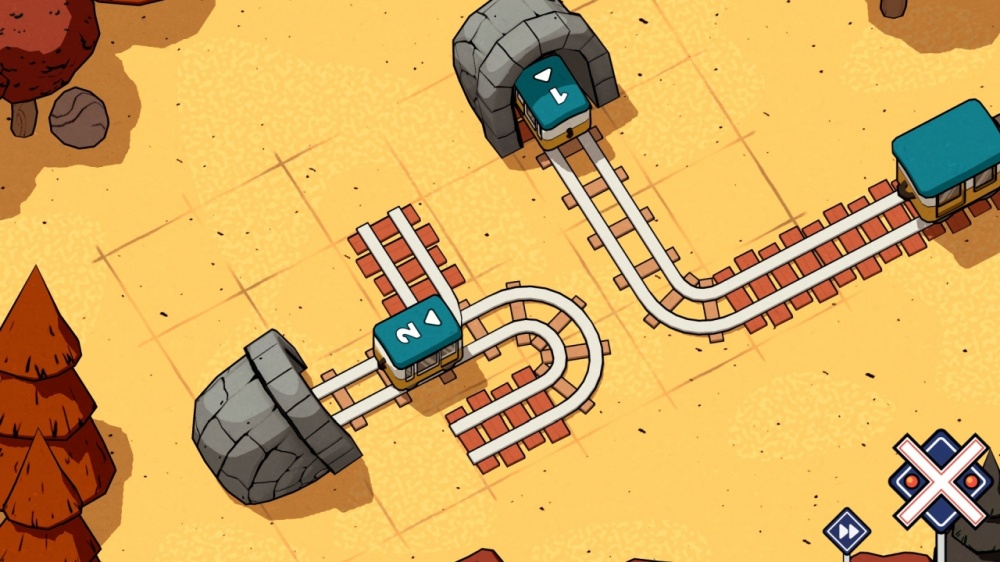 A cute puzzle game with simple mechanics that somehow produce some devilishly delightful knots to untangle. All you have to do in each stage is arrange the tracks so that the cars will connect to the engine in the numbered order. You get more than one hundred and fifty of these stages, and the game sprinkles in enough clever gimmicks to keep things fresh all throughout. I've been playing this one for a while now, so I should have a review ready soon. It's also available on mobile, and it plays great there too.
Sword of the Vagrant ($9.99)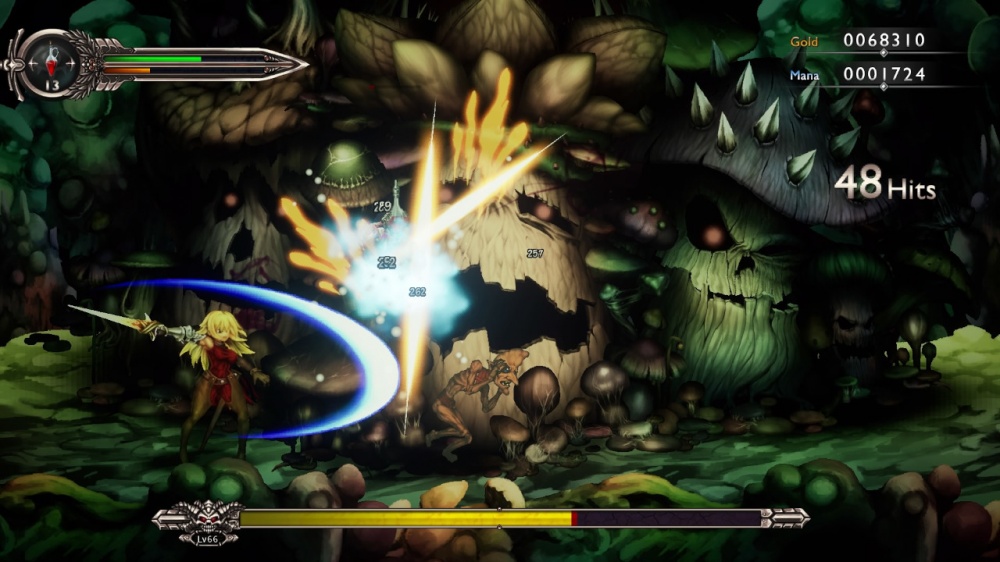 Wow, this game has some gorgeous art. Does it play as good as it looks? No, not really. But it plays well enough. It's a very ordinary side-scrolling action game with some RPG elements, and you've probably played more than a few games like it before. But it mostly does what you would expect it to, and for ten dollars that is probably enough.
Japanese Escape Games The Room Without Doors ($9.99)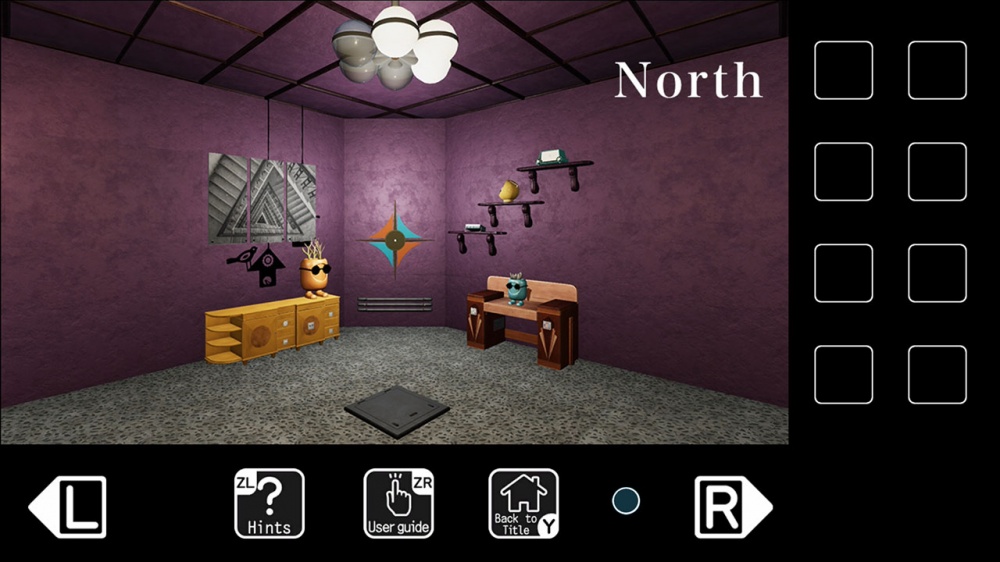 Here's the latest in the Japanese Escape Games series. This time it ditches any attempt at realism and instead sticks you in a room without doors. If you've played any of the games in this series before, you should have a general idea of what to expect. Heck, even if you haven't played any of them I'm sure you can put two and two together. Okay, now make The Door Without Rooms.
Grisaia Phantom Trigger 07 ($24.99)
The seventh full chapter in the Grisaia Phantom Trigger series of visual novels has arrived on Switch. I assume if you have played through all of the games up to this point, you're not going to stop now. And if you haven't, you certainly shouldn't start with the seventh one. So yes, it doesn't really matter much what I write here. There are some new characters in this penultimate episode, and it generally does the job of setting up all the pieces for the final chapter.
The Outbound Ghost ($24.99)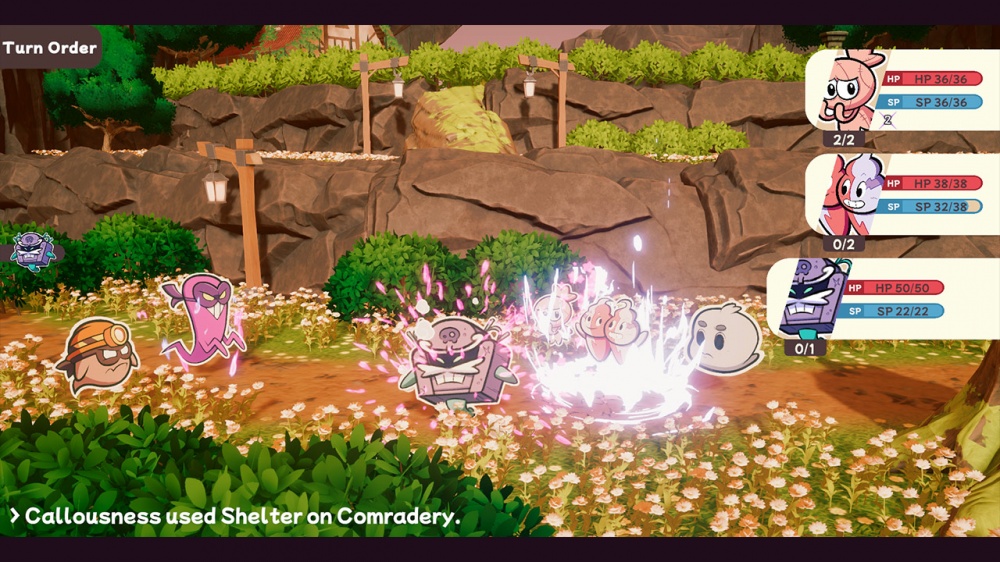 This turn-based RPG is another one that is trying to evoke the feel of the Paper Mario games back when they were turn-based RPGs. It's… okay. I wish I could say more enthusiastic words about it because it definitely has its heart in the right place, but it's just kind of meandering and poorly-paced. It's not a terribly long game, but it feels like it runs out of steam after only a few hours of play. But hey, that's just my take. Perhaps you'll like it better. The ghost-themed premise is certainly unique, and I love that your party members are simply facets of your own past personality that you've unlocked.
Work From Home ($19.99)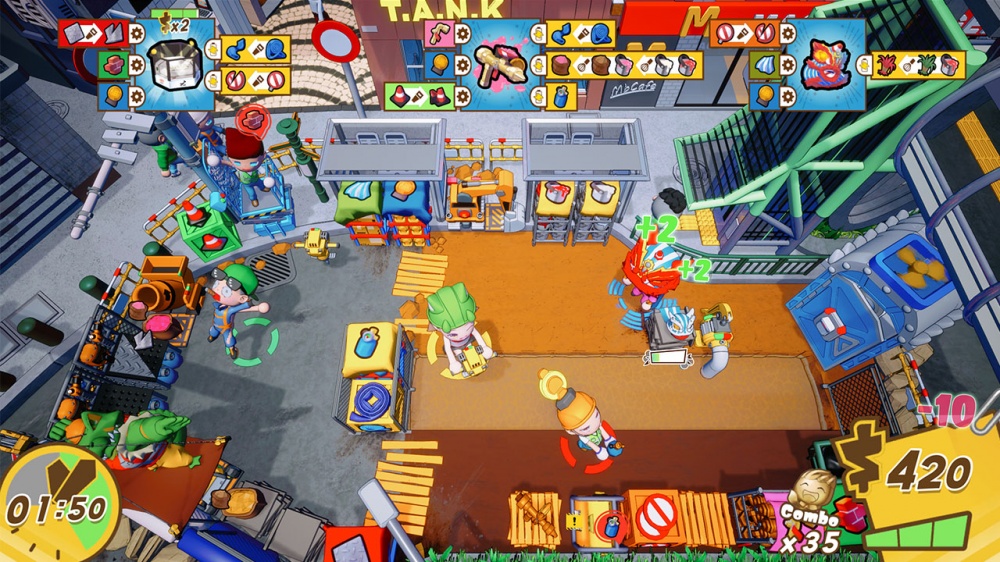 As you can probably guess from that screenshot, this is a co-op party game for up to four players via local multiplayer. You have to pretend to work while the boss is watching, and then completely slack off in various ways when they're not. It seems to have potential, but I always have to put these kinds of games through their paces with my family before I can give any kind of proper verdict on them. Here's hoping, though.
Super Planet Life ($9.99)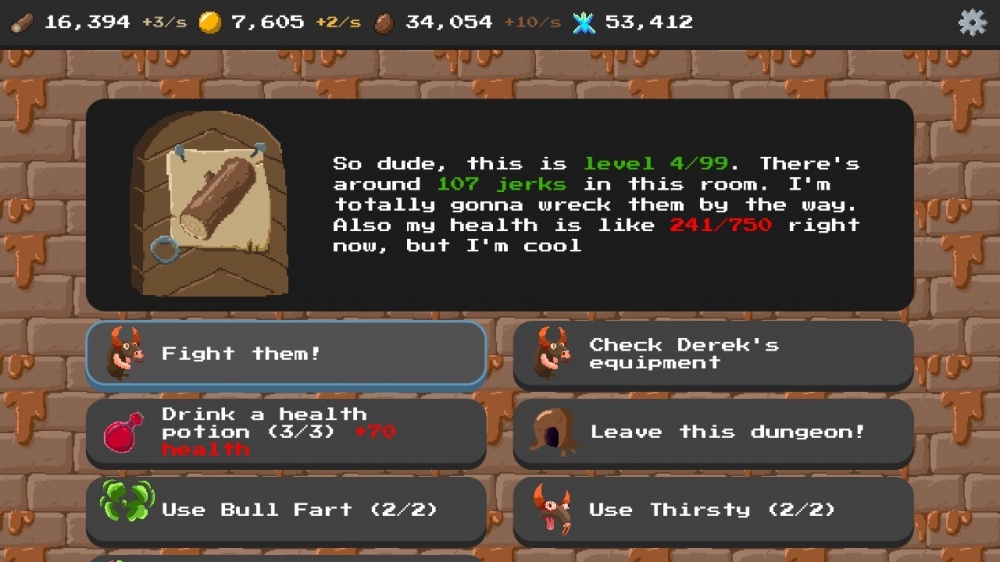 Sometimes you're reading some good old Silver Surfer comics and you find yourself wondering what Ego the Living Planet's life is like. Well, here is a game that helps you live that planet life. Search the universe for friends and carefully manage your resources to be the best planet you can be. Battle through dungeons that lead to the center of yourself, mingle with space gods, the usual stuff. I don't know if this game is good, but it's weird and that's usually enough for me.
Warp Drive ($24.99)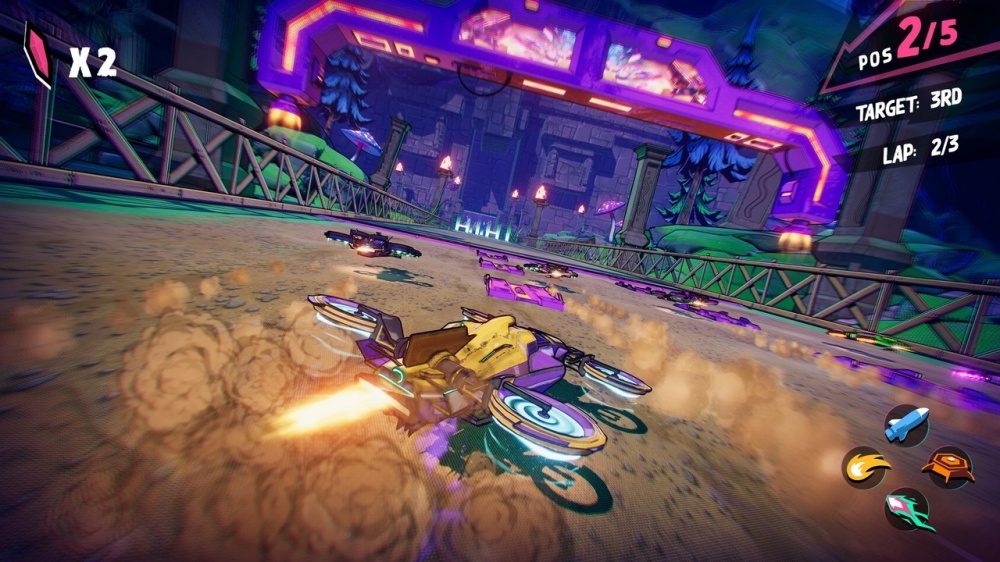 A stylish high-speed racer with a unique teleportation gimmick, Warp Drive looks and sounds super-cool but it actually kind of so-so in practice. It's fine enough as an Apple Arcade game where you can play it a bit alongside a ton of other games, but I just don't feel like there's enough zip to the gameplay or meat on the bones to justify the price tag on Switch for me. That said, I recommend giving it a go on Apple Arcade to see if you like it well enough to buy a version to keep. You may well get more out of it than I did.
Lover Pretend ($49.99)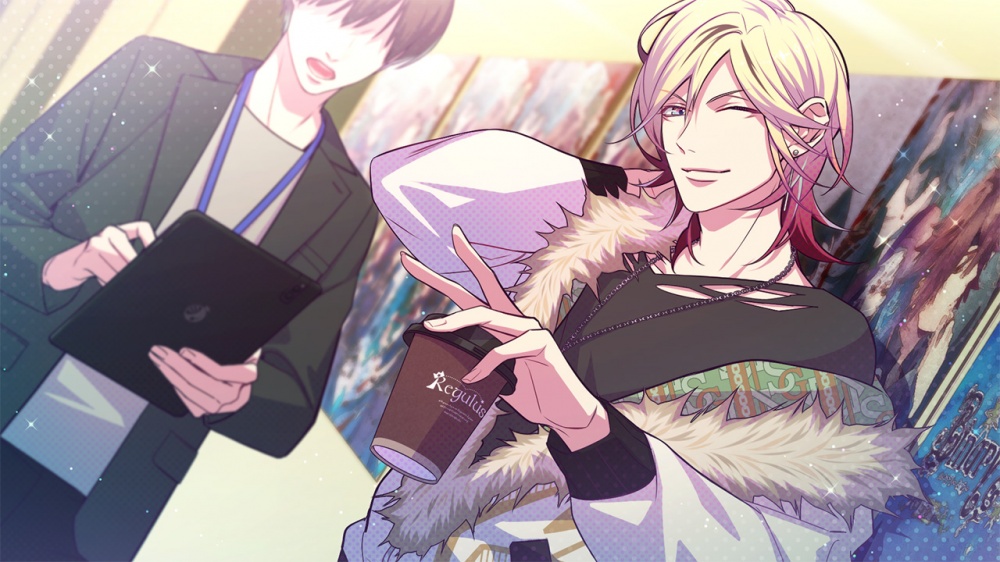 Here's the latest otome visual novel. Our main character, Chiyuki, has two problems. First, she wants to follow in her mother's footsteps and become a scriptwriter. Second, she wants to find the father she has never met. She gets a job as an assistant for an upcoming film, but somehow ends up being one of the stars. Through this wacky series of events, she might end up solving both of her problems and earning some quality smooches along the way. The usual archetypes of handsome boys await. Our pal Mikhail is working on a review for this one.
Papetura ($9.99)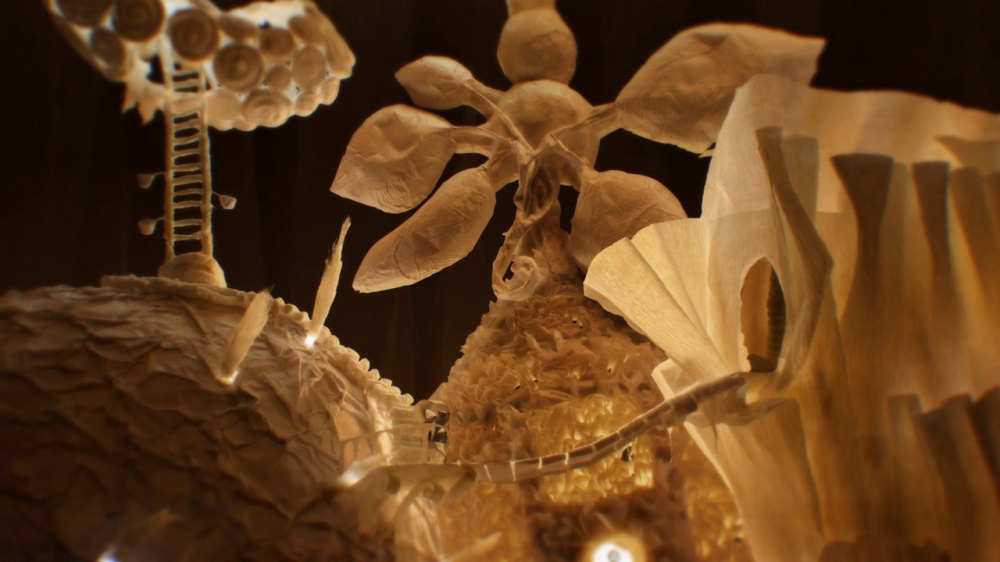 This is a short, beautiful little adventure game about two creatures named Pape and Tura who are trying to keep their house from being burnt down. Just about everything in the game has a handcrafted paper look to it, and it really is striking. So long as you come into it knowing that it's more of an experience than a mechanics-focused game, I think most will find this one worth the trip.
Tomomi ($7.99)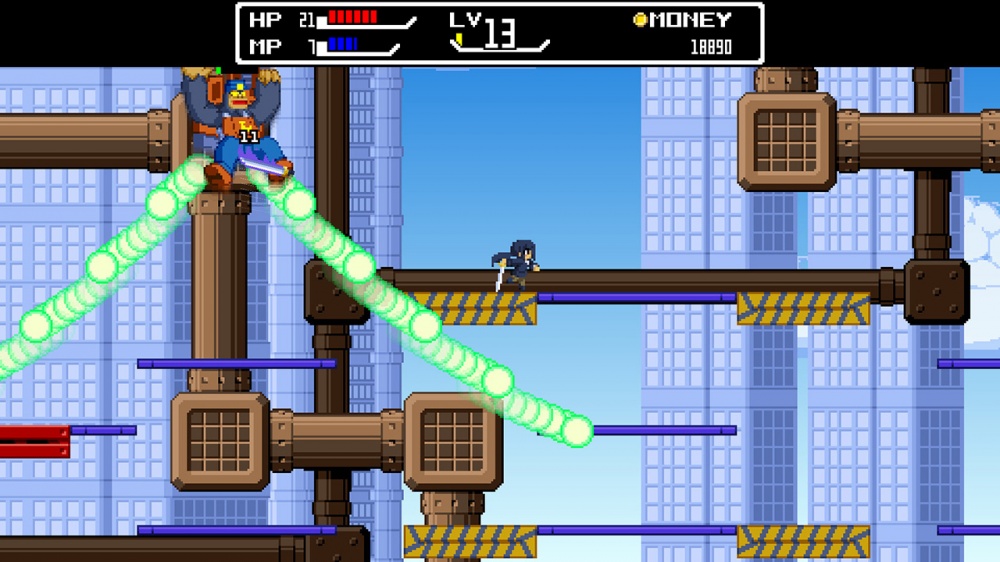 Wait, we're at the end of the list and there aren't any trash games today? Seriously? I call that a win. Tomomi is a really fun albeit brief Metroidvania-style game about a girl, her katana, and the things she does with that katana. This is a pretty decent way to spend eight bucks, provided you're not completely opposed to playing another Metroidvania-style game.
Sales
(North American eShop, US Prices)
Likely a lot more sales have popped by the time you're reading this, but it's not a bad list for now. Supaplex, Action Arcade Wrestling, and Station Manager are hitting new lows, and there are a number of other games decent enough to take a punt on there. Take a gander at the outbox too. Nothing super amazing in there, but there could be something you want to grab.
Select New Games on Sale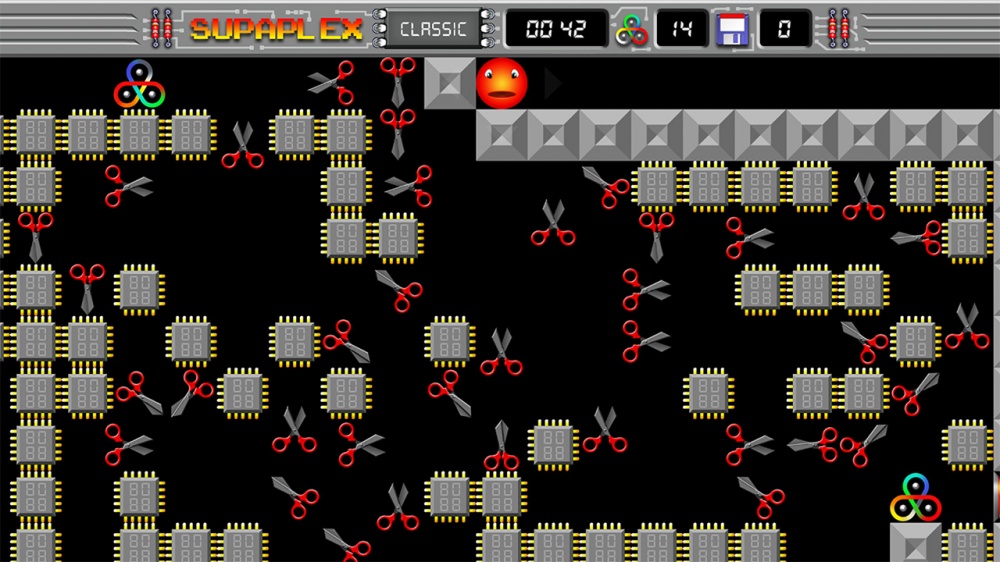 Supaplex ($4.49 from $14.99 until 12/6)
Action Arcade Wrestling ($8.99 from $14.99 until 12/8)
Anima: GoM Arcane Edition ($6.89 from $29.99 until 12/12)
Front Mission 1st: Remake ($31.49 from $34.99 until 12/14)
Unsouled ($5.59 from $19.99 until 12/15)
Pill Baby ($9.75 from $15.00 until 12/15)
Skul: The Hero Slayer ($11.99 from $19.99 until 12/15)
Metal Unit ($3.99 from $15.99 until 12/15)
8Doors: Arum's Afterlife Adv. ($3.99 from $19.99 until 12/15)
Dungeon Escape ($1.99 from $4.99 until 12/16)
Ravva & the Cyclops Curse ($1.99 from $4.99 until 12/16)
Memories of East Coast ($2.49 from $4.99 until 12/16)
Rage Among the Stars ($2.99 from $4.99 until 12/16)
Immortus Temporus ($2.49 from $4.99 until 12/16)
El Gancho ($4.19 from $6.99 until 12/16)

Venus: Improbable Dream ($4.99 from $9.99 until 12/16)
Plunderer's Adventures ($2.99 from $4.99 until 12/16)
Explosive Candy World ($2.99 from $4.99 until 12/16)
Queeny Army ($2.99 from $4.99 until 12/16)
Blitz Breaker ($1.99 from $4.99 until 12/16)
Slap the Rocks ($2.99 from $4.99 until 12/16)
Retrace: Memories of Death ($1.99 from $7.99 until 12/16)
Game Dev Story ($7.00 from $14.00 until 12/22)
Dungeon Village ($7.00 from $14.00 until 12/22)
Station Manager ($7.00 from $14.00 until 12/22)
As Far As The Eye ($4.99 from $24.99 until 12/22)
Gas Station Simulator ($13.99 from $19.99 until 12/22)
Banners of Ruin ($8.00 from $19.99 until 12/22)
Defend the Rook ($3.59 from $17.99 until 12/22)
Sales Ending Tomorrow, Friday, December 2nd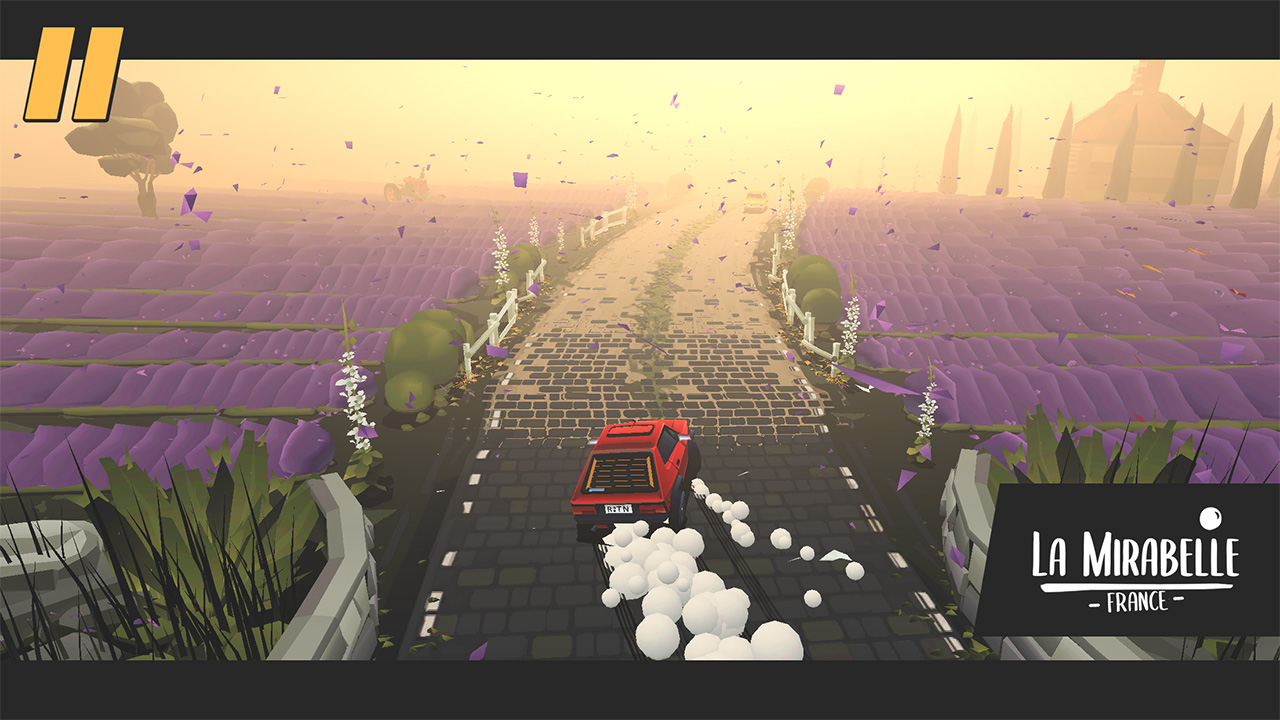 #Drive ($3.24 from $12.99 until 12/2)
4×4 Offroad Driver ($7.79 from $12.99 until 12/2)
Attack on Beetle ($3.29 from $5.99 until 12/2)
Baldur's Gate: Dark Alliance ($23.99 from $29.99 until 12/2)
Baldur's Gate: Dark Alliance 2 ($23.99 from $29.99 until 12/2)
Bladed Fury ($4.99 from $19.99 until 12/2)
Book Quest ($4.89 from $6.99 until 12/2)
Crisis Wing ($4.79 from $7.99 until 12/2)
Dark Quest 2 ($4.39 from $10.99 until 12/2)
Depth of Extinction ($3.74 from $14.99 until 12/2)
Devastator ($2.79 from $6.99 until 12/2)
Divination ($3.49 from $4.99 until 12/2)
Ever Forward ($3.74 from $14.99 until 12/2)
Freezer Pops ($6.99 from $9.99 until 12/2)
Good Pizza, Great Pizza ($2.49 from $9.99 until 12/2)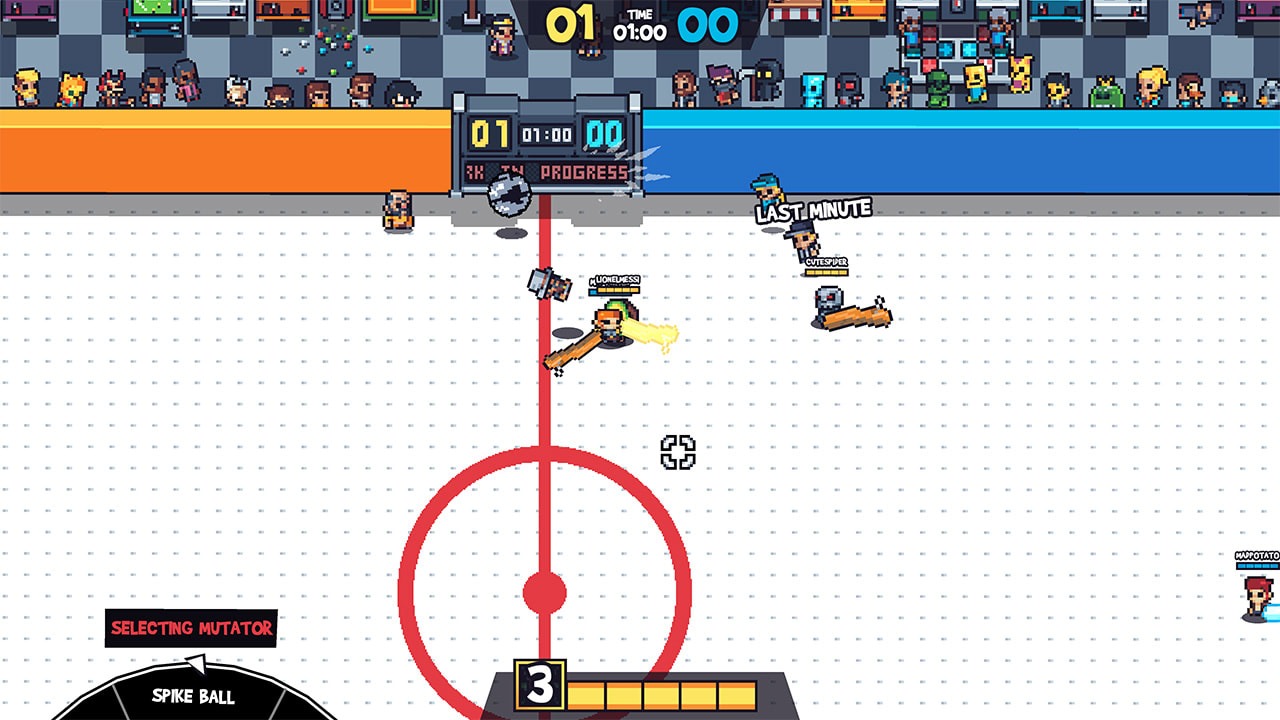 Guts 'N Goals ($3.74 from $14.99 until 12/2)
Hidden in Plain Sight ($2.99 from $5.99 until 12/2)
Hoa ($3.74 from $14.99 until 12/2)
Ikai ($5.99 from $14.99 until 12/2)
Inertia: Redux ($2.19 from $4.39 until 12/2)
Inferno 2 ($1.99 from $4.99 until 12/2)
Labyrinth of the Witch ($7.49 from $14.99 until 12/2)
Moero Crystal H ($23.99 from $39.99 until 12/2)
MUSNYX ($7.49 from $29.99 until 12/2)
Pretty Girls Breakers ($4.19 from $6.99 until 12/2)
Puzzle Plowing A Field ($2.09 from $2.99 until 12/2)
Sofiya & the Ancient Clan ($5.59 from $7.99 until 12/2)
SpongeBob Krusty Cook-Off ($4.94 from $14.99 until 12/2)
Squish ($5.99 from $14.99 until 12/2)
Super Perils of Baking ($7.49 from $9.99 until 12/2)
Superbeat: XONiC ($7.49 from $29.99 until 12/2)
Wife Quest ($5.59 from $7.99 until 12/2)
That's all for today, friends. We'll be back tomorrow with the rest of the releases of the week, plus some sales and maybe even a bit of news. As for today's tests, I'll get the results next week. Fingers crossed, if you will. I hope you all have a good Thursday and, as always, thanks for reading!
[ad_2]

Source link